Conference will explore the benefits of variable-speed drives

Variable-speed drives can play a very effective role in achieving energy-efficient HVAC systems. Richard Burke gathers the views of some of the leading players in variable-speed drives.
Legislation and rising energy prices have moved the topic of energy-efficient building systems out from being the sole remit of building engineers to encompass financial heads and CEOs.
Indeed, such is the growing interest in finding workable solutions to the matter that five industry trade bodies have banded together to organise a 2-day conference to discuss this very topic. The Motor Driven Systems (MDS) Conference is scheduled for 9 and 10 November 2011 at St. Johns Hotel, Solihull.
Perhaps one of the easiest ways to make energy savings — and financial savings — is to invest in variable-speed drives (VSDs).
Geoff Lockwood, Technical Director of ebm-papst, a leader in the manufacture of high-efficiency EC fan and motor products and a headline sponsor of the MDS Conference, explains: 'Obviously, if the ventilation, heating or cooling application does not require to be run at a constant rate — and few do — then by reducing the speed of the fan to reduce the volume flow less energy is consumed. The most significant point with fans and pumps is that the power required to drive the impeller changes in a cube-law relationship to impeller speed. For example, an impeller rotating at 80% of its full speed only requires 50% power input compared to the full speed setting.'
Lockwood points out that this explanation should be taken as a rough indication of the savings possible but that it clearly demonstrates a slight reduction in fan speed will lead to significant savings.
Steve Ruddell, division manager of ABB's discrete automation and motion division, concurs with this view: 'Because many pump and fan systems run at less than full capacity for much of the time VSDs can produce huge savings. An example of the savings that can be made is to be found in hospitals. The Hammersmith & Charing Cross NHS Trust retrofitted more than 70 high efficiency electric motors and VSDs at its two London Hospitals, resulting in improved HVAC efficiency of over 25%.'
As a retrofit item, the VSD can be one of the most effective factors for producing energy savings. Insulating a building can give a return on investment over 30 years, whereas the VSD achieves its return in two years or less.
Government, in the shape of the Carbon Trust, offers incentives. Enhanced Capital Allowances mean a business can claim 100% first-year capital allowance on its spending on VSDs. Even more significantly, there is a loan scheme that allows small companies and SMEs to use an interest-free loan to pay for the VSD and its installation.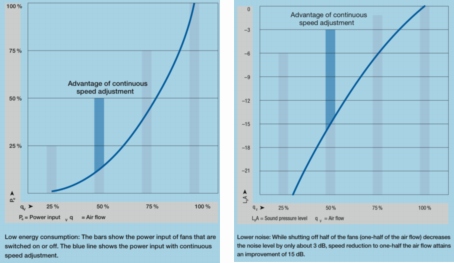 Air–conditioning and refrigeration plant are a good example of speed control of fans offering more energy savings than just from the fan, according to Geoff Lockwood, who is also president of FETA (Federation of Environmental Trade Associations). 'Consider that the hot side of the air-conditioning or refrigeration plant consists of a condenser with, say, four fans. If two are turned off, half the power is saved. But if all four fans are rotating at half speed the air over the condenser is the equivalent to two fans on, but the theoretical power consumption reduction is 78.5%. (Fig. 1)
'There are also acoustic benefits. The loudest condition is when all fans are running full speed. Turning two fans off to meet a particular load reduces the noise level by 3 dB. However, if all the fans are rotating at half speed to deliver the same airflow, the noise is reduced by significantly more, 15 dB.' (Fig. 2).
Steve Ruddell of ABB (an MDS Conference event partner) is also enthusiastic about the wider benefits of VSDs. 'VSDs make HVAC applications easier to realise because they give much greater scope for control. This makes them ideal for providing a more comfortable indoor climate with reduced input energy — the type of indoor climate that users demand in the 21st century.
'As well as energy savings,' Ruddell continues, 'VSDs also bring other benefits, allowing fans, ducts, pumps and pipes to be smaller, cutting installation and running costs, while reducing mechanical stress and noise levels and allowing more accurate control of the process.'
The final word on VSDs goes to Steve Brambley, director of GAMBICA, the national organisation representing the interests of companies in the instrumentation, control, automation and laboratory sectors in the UK. 'Only about 10% of motors in use in British industry have VSDs fitted. It seems clear that a progressive company can gain advantage over its competitors by ensuring that their own equipment and anything they manufacture takes advantage of the benefits VSDs provide.'
Richard Burke is with the organisers of the Motor Driven Systems Conference, Touchwave Media.
Related links:
Related articles: