Device advice

To ensure better control, comfort of building occupants and increased energy efficiency, operators of heating, ventilation and air-conditioning systems should make certain they have accurate information from high-quality field devices, says Gerry McGilley
Any effective building and energy-management system (BEMS) needs robust, reliable and accurate field devices to provide the precise information required to control the HVAC system effectively. This is crucial, as a building's HVAC system plays an integral role in providing a comfortable and effective environment to work, rest or play. The HVAC system is in constant use — providing the means to heat buildings in periods of cold weather, cool them during the Summer months and ventilate them for the benefit of users.
But it is not only the successful implementation of an HVAC system that requires consideration, it is also the ability to operate the system at optimum levels to gain maximum energy efficiency. With energy consumption accounting for around 40% of a building's running costs and with energy costs set to remain high for the foreseeable future, the continual need to minimise energy-related expenditure and the business requirement to optimise energy use and therefore cost control of the entire HVAC plant has never been more important.
Optimising an HVAC system largely depends on the specification of high-quality field devices to ensure correct system monitoring and control. Having the right kind of intelligence-led devices such as sensors, valves and actuators will underpin the effective delivery of the HVAC system and ensure highly accurate measurement and monitoring of individual elements of the system and better overall control. In turn, this control will lead to bottom-line benefit by way of tangible savings through reduced energy costs.
Viewed either as individual devices or as part of an integrated package, such field devices can often be overlooked in the process of designing and implementing an HVAC system. However, they are critical if the system is to be truly optimised to deliver, among others, acceptable temperature, humidity or air-quality standards of operation.
There are a number of key areas where correctly specified field devices provide real benefit. Of primary concern are sensors, valves and actuators.
Sensors
Sensors are central in supporting any HVAC platform required for operation, control or room climate. Used effectively, sensors will allow for energy-efficient, demand-controlled ventilation for better room quality and comfort and can be used to help an HVAC system to automatically compensate for changes in building occupancy, usage or plant characteristics.
They can be used to accurately measure temperature, pressure, humidity or air quality in any given area in rooms, ducts or, even, outside spaces. Sensor ranges also include multi-sensors that measure mixed gases for air-quality purposes or for use in sensitive environments — as seen in the pharmaceutical, food or paper-manufacturing processes. Sensors can reliably monitor external temperatures to keep heating requirements economical, while outside sensors can record wind, wall temperature and solar radiation to provide an holistic monitoring procedure to aid intelligence-based management decision making.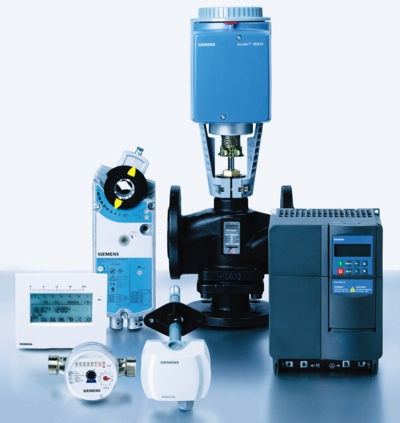 For optimum effectiveness, it is important to ensure that any sensor selection has full compatibility with the HVAC controllers, as well as the ability to connect to third-party systems through use of standardised output signals. Energy saving is a common theme associated with the utilisation of fast, high-precision measurement and innovative techniques, especially when delivering such features as demand-controlled ventilation for rooms. By ensuring that building energy consumption levels more accurately reflect daily building operation, resulting costs are in many cases significantly reduced.
Valves and actuators
Valves and actuators are intrinsic in the generation, distribution and consumption of any HVAC system and also play a pivotal role in the economical and efficient performance of the system. With applications differing dramatically in scale, size and complexity, choosing the right valve and actuator components is essential to maximise overall system efficiency. A couple of examples clearly illustrate the energy-saving and control benefits that correctly specified valves and actuators can play as part of an overall HVAC system.
• Air-conditioning plants. Outdoor climate changes significantly affect the number of operating hours and part-load conditions for ventilation and air-conditioning systems. This blurs the boundaries between typical Winter and Summer operation. Cooling may be required more often in Winter or intermediate seasons. With more accurate control of temperature and humidity, for example, energy savings of up to 30% can be possible.
• Industrial processes. Many of today's innovations in the industrial sector are based on manufacturing procedures taking place under well-defined environmental conditions, whether this is the production of machines, semiconductors, food or drugs. While years ago temperatures accurate to within a few tenths of a Kelvin were deemed sufficient, innovative solutions as provided by proportional magnetic valves can offer accuracies of a few thousandth of a Kelvin.
The message is clear. Don't forget the important role field devices can play in enhancing the overall effectiveness of any HVAC system. By thinking carefully about the performance needs of the system and matching this to correctly specified high-quality and reliable sensors, valves and actuators, not only will the operational efficiency of the system be optimised, but power use will be reduced — along with the resulting energy bill.
Gerry McGilley is with Siemens Building Technologies.
Related links:
Related articles: