Bitzer Orbit 8 scrolls available for R410A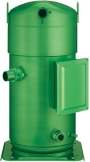 Bitzer Orbit 8 scroll compressors are now available for use with R410A. They have capacities from 39 to 103 kW and are designed primarily for air- and water-cooled rooftop air-conditioning and chiller OEM applications. These compressors are claimed to be up to 10% lighter than competitive models across large parts of the range and an operational sound level that is some 3 dB(A) lower than the comparable competition.
These compressors offer industry-standard interchangeability in terms of capacity rating, footprint and fittings/connections across the range.
The Orbit 8 scroll scores well under integrated part-load value and European seasonal energy-efficiency rating. PVE oil that is compatible with HFC refrigerants is used, and its low circulation rate means higher efficiency at the heat exchanger and higher reliability as the oil stays inside the compressor.
The Orbit 8 Standard scroll is for high condensing temperatures and is optimised for air-cooled chillers. The Orbit 8 Boreal is optimised for low condensing temperatures and ideal for water-cooled chillers.
Related articles: