Steam humidifier is easy to use and service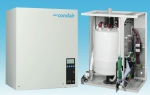 JS Humidifiers describes the Condair CP3 electrode boiler humidifier as a very economic and reliable steam humidifier that is easy to install, use and service. Applications include offices, call centres, hospitals and production facilities. These humidifiers can use standard mains water and deliver 5 to 90 kg/h of steam to a duct or directly to a room. The launch is accompanied by a 40% trade-in deal on any steam humidifier.
All such humidifiers accumulate limescale in their boiling cylinders during operation. Easily accessible internals and a user-friendly control panel enable the Condair CP3 to be drained and the cylinder replaced in just a few minutes. Alternatively, cleanable cylinders are available which can be emptied of scale and reused.
Staged electrode use maximises the lifetime of these humidifiers. Initially, only the lower sections of the electrodes are submerged. When they become encrusted with scale, the water level is increase to expose fresh electrodes to the water.
The conductivity of the water is automatically calculated so that high levels of minerals can be reduced with partial drain-and-fill cycles.
Related links:
Related articles: