Achieving buildings that continue to perform
Technology alone will not enable a building to achieve its design specification — people need to be involved at all stages of its design and operation.
Nowadays most new buildings are designed with highly sophisticated building management systems (BMS), which should result in high levels of energy efficiency and user comfort. However, in many cases these efficiencies are not being maximised, and there is a significant gap between the energy consumption predictions at design stage and the reality of energy consumption post-construction, which in many cases is significantly higher.
Alex MacGregor, head of energy specification and design at GSH, explains: 'Whilst a good BMS can really help create bottom-line efficiencies it is only as good as the people operating it, and often there isn't the required level of training in place for users of the system. This results in underperforming buildings, with building operators who are unable to effect change due to an inability to properly manipulate the often complex BMS inputs.
'This is partially a financial issue as a quality BMS system represents a significant investment. In the current economic climate many organisations have to stretch to find the necessary capital and as a result are having to make savings in areas such as training. There is no doubt this is a false economy.'
Alex MacGregor has also seen a number of sites where a building owner will invest in energy-efficient technology, but doesn't see the expected drop in consumption due to a system that has been poorly commissioned.
He says, 'Don't just assume everything has been set up properly. Recently, we surveyed a site where the owner had installed variable-speed drives to the air-handling unit fans. The drives, however, hadn't been commissioned properly and were in fact set to a constant fixed speed, largely negating the potential benefits of the technology. It took us a few hours to remedy the situation and the savings were significant.'
Scott Whiffing, GSH's technical director believes that a key issue is that in many cases when a new building is constructed there is very little collaboration between the building designer and the owner/building operator. He says, 'I would say that nine times out of 10 the two parties never discuss the design philosophy of the building and how it is meant to operate, which is madness.'
The BSRIA Soft Landings Framework has been developed to address these issues and is designed to close the gap by involving building designers for much longer into the post-construction phase and affording closer collaboration between the designers and building operatives/FMs.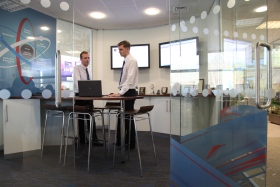 'We wholeheartedly support this framework at GSH as we often find that our clients haven't been given the right kind of documentation when the building is handed over to enable them to operate the building efficiently. For example, it would be hugely beneficial to have an overview of how all the systems that have been installed to meet the design philosophy come together, but what is actually received is the documentation specific to each system — with no reference to how this is integrated into the design.
'It is also important that any documentation is written and presented in such a way that it can be easily accessed and understood by the maintenance engineers on the ground. Too often I have seen 200-page manuals that are full of complex calculations when a few pages in the form of "dos and don'ts" would be much more useful and appropriate to the building operators,' says Scott Whiffing.
Aneysha Minocha, GSH's energy director, believes that managing a building properly requires engagement from many different areas of the business, not just the FM and maintenance teams. This is in part due to the fact that buildings are dynamic and frequently experience changes in use to accommodate changes in staff numbers, opening times or functionality.
'The building services are sometimes overlooked when these changes are taking place, resulting in problems such as HVAC or lighting systems operating in unoccupied parts of the building, or systems running out of hours. I have also seen cases where partition walls have been added to a previous open-plan design with no thought given to the implications.
'This can also be a problem when refurbishments are made that contradict the design intent of a building without things being thought through. We tend to find that most buildings have undergone a series of refurbishment projects over a number of years, but very rarely do we find that the plant and systems have been updated or tuned to keep up with those changes in the workplace.
'Additionally, where building systems have been taken into account or new systems have been installed and commissioned, we tend to find that the system is then expected to perform, which results in the building's energy drifting from optimised performance over time. The only way this can be managed is through the continuous commissioning process and the on-going monitoring and targeting of building performance. Our energy-management solution is founded on the belief that the key to sustainable consumption is the ability to monitor and promptly effect change. Our service-led approach to maintenance optimises the energy efficiency and lifecycle of key assets through the forensic evaluation of the asset condition and demand, building environment, controls strategy and risk.'
Alex MacGregor summarises, 'In conclusion it doesn't matter how smart the design of your building is or how sophisticated your BMS is if the people operating it don't understand the design philosophy and don't have the training and tools to operate it efficiently.'
Related links:
Related articles: