The double act of flues and boilers
John Hamnett of A1 Flue Systems argues that boilers and flue systems should be designed as one to optimise performance.
Supercars, such as Ferrari's new 458, and boilers don't immediately appear to have anything in common. But, actually, they do. They could be one and the same thing as they are both precision engineered and are designed to perform to optimum levels of performance.
The engineering and technology just keep getting better, and the people behind those advances should rightly take all the plaudits. A great example has been the way in which boiler manufacturers have been able to reduce the discharge temperatures of exhaust gases.
Where this particular analogy falls down is that engines and exhaust systems for supercars often start life on the same drawing boards at Maranello, so they're always going to work in perfect harmony for maximum performance from day one. And why wouldn't they? They're fundamental to one another. One can't work properly without the other, and it's inconceivable that they would be treated as separate entities.
Sadly, the same can't quite be said for boilers and flue systems. They are both brilliantly engineered — but not in tandem, and therein lies the rub. I suppose it's understandable, given some of the commercial divides and the sensitivities surrounding new developments in technology — but we live in hope.
On the plus side, it's one of the delights of our industry that no two 100 kW boilers are the same, and that keeps us flue and exhaust manufacturers on our toes. We often play catch-up on the specifications of any new boiler in order to engineer solutions to ensure the peak performance of each unit.
We rise to the challenge of creating flue systems that are as efficient as the boilers; one such area has been the reduction in the temperatures of emission gases. Lower temperatures mean that the natural buoyancy that allows hot gases to rise efficiently and safely through a flue system is being reduced, which can otherwise potentially reduce the efficiency of the boiler.
Lower flue-gas temperatures also means there's a higher risk of condensation — which is obviously a huge concern especially as the water droplets can be very acidic. Manufacturers therefore go to painstaking lengths to design systems with all this in mind and ensuring the droplets can't run back through the systems and that there are suitable falls to a drain point which is away from the boiler outlet.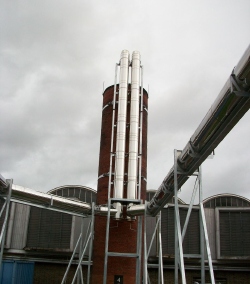 Good flue manufacturers continually test, develop and refine systems to meet the existing and future needs of boilers — based on what we can glean about the units and, crucially, from installations.
One such example that has been cropping up more frequently of late surrounds non-return valves. In situations where a number of appliances are installed together and run in a variety of sequences for different levels of demand, we have seen instances where non-return valves have failed and so emission gases have escaped into another boiler. This is a huge potential problem that has implications for the performance of the appliance because gases are escaping through the combustion chamber. More alarmingly, there is a greater health-and-safety risk because the exhaust gases are not escaping as they should.
Biomass boilers are proving an interesting challenge as well. They are rightly being hailed as an environmentally sound heating solution because burning biomass fuel, such as wood pellets or logs, is therefore classed as carbon-neutral, renewable energy.
Biomass boilers are only as efficient as the flue systems that support them, and we have come across instances where the location of installation has been detrimental to performance.
We always advocate that biomass boilers should be installed as close to vertical stacks as possible for two key reasons. The first is that the fewer horizontal runs there are for a biomass boiler system, the better the emission gases can rise unimpeded. Secondly, we have seen build-ups in deposits of fly ash, which often tend to settle on horizontal runs in flue systems and can lead to boilers cutting out. This problem can be compounded if the fly ash mixes with condensate.
Both of these issues have huge implications on maintenance issues, which could prove costly and be very inconvenient for the end user.
In short, it would be a welcome step if flue manufacturers could get sight of the technical specifications of boilers sooner, as we could make practical and informed contributions to enhance the performance and efficiencies.
John Hamnett is a director at A1 Flue Systems.
Related links:
Related articles: