The developing market for heat-interface units
Heat-interface units (HIUs) are a rapidly growing market, especially as a key component of district and communal heating systems. BSRIA's Krystyna Dawson discusses the market drivers and the challenges.
A heat-interface unit (HIU) is a self-contained system that either cools or heats a single-phase fluid, such as water, by rejecting sensible heat via a plate heat exchanger that is mechanically circulated by a pump — sometimes integral to the HIU. A typical HIU may consist of components including a heat exchanger(s), pipework, valves, heat meter(s) etc.
HIUs experienced good growth over the last three years. In 2012 the market reached an estimated 25 000 units, recording a growth of around 20% on the year-on-year basis. The vast majority of units were installed in newly built apartments, with the refurbishment segment accounting for just 12% of the total market. The market grew by 6% in 2013. This growth was lower than initially expected due to a lack of investment from developers as a consequence of lower credit volumes than expected.
Typical applications of HIUs include installations in combination with district heating/cooling circuits to generate low-temperature hot water, space heating or space cooling for multi-dwelling developments.
The growing use of HIUs can be attributed to reduced installation and maintenance costs compared with other heating and cooling appliances where Gas Safe and/or F-gas regulations need to be adhered to. Additional HIUs are being more commonly used in new developments to achieve 'zero-carbon' ratings.
There are four basic types of heat interface units.
• Type A: Heating and instantaneous domestic hot water via independent plate heat exchangers. In this configuration, individual plate heat exchangers supply hot water for space heating and instantaneous domestic hot water.
• Type B: Direct heating with instantaneous domestic hot water via a plate heat exchanger. In this HIU configuration. primary heating is supplied directly from a central heat generator. Domestic hot water is supplied instantaneously via a plate heat exchanger.
• Type C: In this HIU configuration, primary heating is provided via a plate heat exchange and sanitary hot water supplied by a storage cylinder.
• Type D: Direct heating with primary heating for indirect DHW storage unit. In this HIU configuration both primary heating and sanitary hot water are supplied directly from a central heat generator to the dwelling.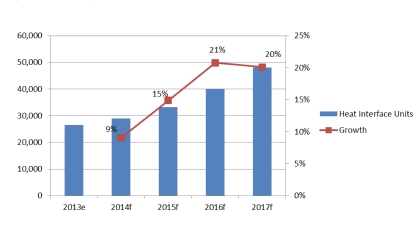 The outlook until 2017 for the UK HIU market is positive, thanks to a favourable regulatory and legislative framework. Building Regulations combined with incentive schemes are expected to prompt energy-efficient refurbishment projects in high-rise buildings where individual heating systems are going to be increasingly converted into collective ones, with HIUs chosen to replace individual boilers.
Between 2014 and 2017, the market is expected to grow in volume terms at a compound annual rate of 16%, with sales in 2017 ranging between 45 000 and 50 000 units.
Housing demand and energy-efficiency standards, on the other hand, will drive sales in new buildings. Compliance with increasingly tight Building Regulations will require progressive improvements in the energy performance of buildings. Central plant systems are particularly well-positioned (compared to alternative solutions) to reach the required targets in a cost-effective way. Increasing adoption of communal heating via district heating (DH) or central plant (CP) will drive demand for HIUs. Although it is not compulsory for apartments connected to DH or CP to incorporate an HIU, on the basis of the current practice, we believe that new apartments are likely to have an HIU.
Although there is an increasing and growing market, there is not currently a specific European or industry agreed test standard or methodology for testing an HIU that makes provision for the ancillaries included within the HIU package. The most relevant European standard for testing these types of products only considers the thermal performance of the heat exchanger as a stand-alone component.
To accurately determine the thermal performance of an HIU, the package as a whole should be considered when carrying out testing. Measurements should be carried out to include all ancillaries associated with the HIU in order to produce robust results. With the market set to increase in both the new build and refurbishment markets, it is important that contractors and developers can have confidence that the installed HIU will deliver the required output for the application; to ensure this is the case industry needs to agree and support the development and implementation of a standard against which performance can be evaluated.
Another key issue within the HIU industry that needs to be addressed is the installation, commissioning and maintenance of the products, which should be done by a competent person. Industry guidance would provide awareness, increase understanding and improve quality.
Krystyna Dawson is a senior manager at BSRIA.
Related links:
Related articles: