Pressurisation system automatically tops up inhibitors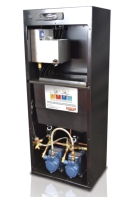 Sentinel Commercial and Flamco have developed a dosing and top-up pressurisation unit that is purpose designed to maintain the minimum water pressure of sealed heating and chilled-water systems while simultaneously adding Sentinel Commercial's inhibitor products in the appropriate concentration.
PressDS has a water air-break tank to protect the integrity of the mains water supply. There is an internal chemical additive tank for inhibitors.
The mix of Sentinel Commercial inhibitor that can be added is variable from 1 to 50%. Both X100 inhibitor and X500 inhibited antifreeze can be used. PressDS thus ensures that the concentration of inhibitors is maintained when top-up water is added to a system.
Press DS is available to suit systems with heads of 25, 50 and 80 m.
Related links:
Related articles: