The true cost of lighting and building controls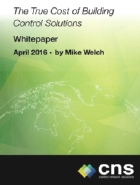 Control Network Solutions, which crates smart web-based control solutions, has prepared a white paper on 'The true cost of building control solutions' to highlight the key legislation to be aware of and the questions to ask when considering building controls. This white paper is designed to provide facilities and corporate-real-estate managers with information about how to choose a vendor-independent and open-standard interoperable control solution.
The white paper covers relevant legislation and the integration of building controls with the Internet of Things. (IoT),
Mike Welch, managing director of CNS, explains, 'As the cost of energy has recently fallen, the energy-saving capabilities of building controls are no longer its only key feature. Flexibility and whether the system is "future- proof" are now of significant importance.'
There are five key questions to ask a solution provider before deciding on a system.
Related links:
Related articles: