Trigeneration addresses long-term energy needs at Natural History Museum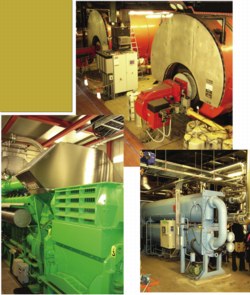 Energy costs have been cut and carbon-dioxide emissions reduced by 1800 tonnes a year at the Natural History Museum following the installation of a tri-generation system to deliver electricity, heating and cooling — and there are many other benefits. KEN SHARPE takes up the story.The boilers in the palatial plant room beneath the Natural History Museum once served the adjacent Science Museum, the Victoria & Albert Museum the other side of Exhibition Road in Kensington and Imperial College a little further along the road. The NHM itself was a relatively small user, requiring only 25% of the 42 MW of heat that could be delivered at 130°C.
Increasing costs
In 2000, Imperial College and the Science Museum withdrew from this local heating scheme — taking away half of the demand and substantially increasing the fixed and variable costs of the two remaining partners. The cost of heat alone went up by 50% from 1.8 to 2.7 p/kWh. The four Danks water-tube boilers were 20 years old and were still efficient, even by modern standards. Like other equipment in the boiler house, they were totally depreciated — so they had no residual value. Funds had been set aside for plant to be replaced, and engineering manager Simon Tilleard had a budget of some £3 million available. His initial thinking was driven by trying to reduce the cost of heat to 1.8 p/kWh — as it had been in 2000. Conventional refurbishment would have reduced the cost of heat to 2.5 p/kWh. Automation and de-manning (a PM5 refurbishment) would have cut costs to 2.2 p/kWh. Combined heat and power was then considered. A 375 kW CHP scheme would have reduced heat costs to £2.1 p/kWh, and there would have been only a small improvement to 2.0 p/kWh by doubling the size of the CHP to 750 kW. Achieving 1.8 p/kWh necessitated 1300 kW of CHP. Unfortunately, a large CHP scheme would have dumped a lot of heat in the summer, and the 1300 kW scheme would have taken 15 years to save £3 million at 2002 prices. Rather than go it alone, the Natural History chose to work in partnership with an energy-supply company. Eight bidders were interviewed, and the new energy centre with a CHP unit generating 1800 kW of electricity, waste-heat boiler to exploit energy in the flue gases and two absorption chillers each providing 705 kW of cooling is operated by Vital Energy in partnership with NHM and V&A. Two boilers were retained and fitted with new low-NOX gas-fired burners. They were derated from delivering hot water at 130°C to 95°C, with a return of 65°C. These measures have added 30 years to their life. The boiler house is no longer manned, whereas previously the boilers tripped out at least once a day, and the boiler house had to be manned 24 h a day.
Selection criteria
Simon Tilleard says that the new plant was selected purely on the savings in energy costs that would be achieved. However, an important side benefit is that existing R22 chillers can be decommissioned and the capital cost of replacing them is avoided. The partnership took over three years to develop and agree and included visiting a number of CHP and district-heating stations in Denmark. It runs for 15 years and has a value of £12 million. An NHS model agreement was used as its basis and developed to suit the project. It delivers guaranteed savings, and there are arrangements for sharing these savings. The project is an off-balance-sheet investment that is self funding. It was important to include the Victoria & Albert Museum in the partnership as it accounted for half the heat demand.
Re-engineering
Much re-engineering of systems in the Natural History Museum was needed to maximise the potential of the proposed CHP installation. The original heating system has a flow temperature of 130°C. The flow temperature was reduced to 95°C with a return of 65°C by replacing existing heat exchangers with plate heat exchangers and using 2-port control valves. Similarly, 12 of the 53 distributed plant rooms in the Victoria & Albert Museum required major work. The two absorption chillers use lithium bromide as the refrigerant and are powered by hot water at 95°C. They deliver chilled water at 6°C through 1000 m of cooling mains, with a return temperature of 12°C. Heat is rejected through two cooling towers. The CHP generator is installed in an acoustic enclosure at one end of the plat room and next to the waste-heat boiler. Early indications are that it is achieving an efficiency at generating electricity of 42.1% and 44% for heat. Mark Howell of Vital Energy explains that the plan is to run the CHP unit for 5500 h a year. The plant will deliver 8875 MWh of electricity a year. This is the first time that Vital Energy has acted as an energy-service company for a very-high-profile customer in the UK, although the company is involved in many smaller projects. For the Natural History Museum, the project has low environmental impact and maximises future potential, as well as being regarded as a demonstration project.
Related articles: