Water saving need not be a pipe dream

Taps that are inadvertently or deliberately left running, taps that drip, urinals that flush when they are not needed and leaking flushing mechanisms have the potential to waste large amounts of water in commercial washrooms. Lee Thompson offers a solution.
Despite the typical British weather, this year has seen many regions of the UK thrust into drought conditions once more. This has a massive impact on water availability and, therefore, cost for organisations — not to mention the environmental impact that water wastage as a result of faulty facilities, such as washrooms, can have. The ultimate approach to preventing such waste is to make water available to washrooms only when they are actually in use based on presence detection. However, system design and installation are all-important for this approach to operate most effectively.
Well-controlled washrooms that employ automatic shut-off technology controlled by infra-red presence sensors can make a positive contribution to water saving in the commercial environment. To ensure that a system works as effectively as possible it is important to ensure it is supported by a well designed plumbing system. This should support water-saving solutions and result in optimum performance with maximum savings for the organisation.
Commercial washrooms present real potential for the building-services manager or engineer. Owing to their nature, these areas are at great risk of water wastage — without the right systems in place. For example a dripping tap, leaky cistern or urinals that flush constantly, even when not in use, all consume water unnecessarily.
It is estimated that a dripping tap alone wastes 5000 litres of water a year. This not only has a cost for organisations, but also compounds the problem of depleting water supplies.
Rarely in commercial premises are the users also the bill-payers, so less care taken with how much water is being used. Conversely domestic water in commercial premises is usually metered, so there is a real emphasis on water saving. With WRAS compliance a risk that is passed on to the building owner, there is a distinct responsibility to ensure adequate measures to control water effectively are put in place. An automatic shut-off valve at the system gateway to a washroom area will ensure that when the facilities are not occupied, water is not delivered to the area, avoiding the risk of wastage.
A simple system, comprising an infra-red sensor communicating with a solenoid valve at the washroom gateway, such as Cistermiser's Sensazone, will establish a user's presence in the washroom, triggering the valve to open and deliver water to the outlets as needed. Importantly the infra-red sensor needs to be positioned appropriately so that it can detect movement as soon as someone enters the facilities. At this point the sensor will send a pulse to open the valve and allow water to be delivered to all parts of the washroom.
Depending on the nature of the facility and the need for water volume the opening time can be pre-set, usually for 15 to 20 minutes. After the pre-set running period the sensor will send a second pulse to close the valve and shut off water to the washroom. The benefit is that if a tap is left on or a flush is faulty and water leaks down the back of a toilet pan undetected, the amount of water wasted is limited only to the pre-set run time of the sensor and valve system.
It is not only the position of the infra-red sensor that is crucial to the effective operation of the system but also the position of the solenoid valve, which needs to be as close to the washroom as possible. Often in existing buildings the building services engineer or M&E contractor must work with the plumbing system as it stands, whereas new installations provide the opportunity to ensure new pipework supports the use of an automatic shut-off control from the start.
A washroom control specialist will be able to advise on the position of valves and sensors to achieve the best effect. A common mistake is that in an attempt to cut costs, a single solenoid valve is positioned in a corridor so it can operate both male and female washroom facilities, with separate infra-red sensors. A problem arises when the one valve is controlled by two sensors, which might over-ride each other and prevent water being delivered when it is needed. There is a knock-on effect on hygiene levels because WCs might be left un-flushed and users might not be able to wash their hands. Once an installation like this has been carried out, it is much more costly and time-consuming to alter later.
The recommended system design is based on one solenoid valve and one sensor for each separate facility. Men's, women's and disabled WCs should each be controlled with their own valve and their own sensor. Water can then be delivered effectively to each area on a separate pipe circuit.
Although utilities such as electricity and gas grab the headlines, with depleting water supplies UK businesses will soon see cost hikes for their water bills too. Consulting a water-management expert will ensure that domestic water use in commercial washrooms is properly controlled. While the building-services manager may need to work within the constraints of an existing plumbing system, an experienced washroom control expert can advise on the positioning of valves with optimal savings in mind.
Lee Thompson is technical manager with Cistermiser.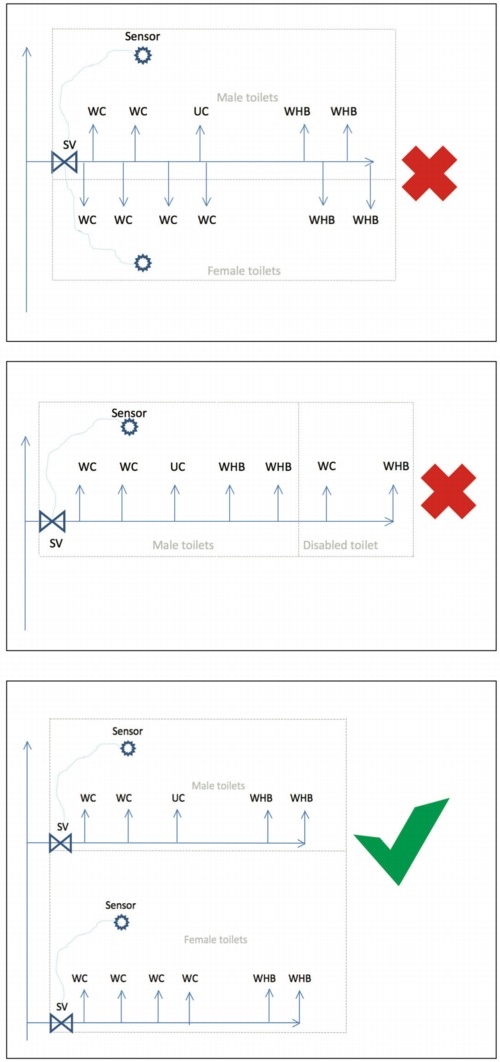 Related links:
Related articles: