In with the old, out with the new
Refurbishment often provides a viable alternative to replacing HVAC plant with new equipment — with significant cost and environmental benefits. Kim Rose explains.
Faced with the need to improve the performance of HVAC plant, many specifiers and building operators only think in terms of replacing it with new equipment. However, there are very good financial and environmental reasons for considering refurbishment as an alternative.
Clearly, when existing plant reaches the stage when replacement or refurbishment is being considered, the key criteria are to improve performance and reliability. There may also be situations where an organisation has reduced its property portfolio by increasing staff densities, so that greater demands are made on the building services.
Given the strong drivers for reducing energy consumption and carbon emissions, building operators will generally want to take advantage of any such exercise to improve energy performance at the same time. In fact, that is often the reason why some people, erroneously, assume that replacement is a better option than refurbishment. However, when approached in the right way, refurbishment can address all of these issues — while also reducing costs for the end client.
Air handling units (AHUs) provide a good example of the key benefits of refurbishing rather than replacing.
Refurbishing to save money
In the current economic climate, capital outlay is clearly a major consideration, so to illustrate the financial advantages we can compare the costs of replacement and refurbishment. As an example, consider a 2 m x 2 m x 6 m AHU with an airflow of 7m3/s, volume control damper, bare-tube frost coil (LPHW), panel filters to G4 efficiency, bag filters to F6, a chilled-water cooling coil, an LPHW reheat coil, a fan and electrically powered motors.
Supplying and delivering a new AHU based on the specification above and assuming that access is straightforward would cost about £12 500.
Refurbishing a similar existing unit might include replacing all the internal components, treating any corrosion, replacing damaged external panels, re-commissioning and providing a 12-month warranty. The cost would be in the region of £9500 — resulting in a capital-cost saving of 24%.
Over and above this saving, refurbishment eliminates the need to replace the existing AHU and adjacent ductwork, fit new ductwork and refit/adapt all the connections. In our experience, when all of these factors are taken into account, the savings will often be closer to 50%.
In addition, there is less disruption to site, and any access difficulties are avoided — making refurbishment even more appealing.
Refurbishing to save energy
As noted above, there is also a strong imperative to improve energy performance, and refurbishment projects provide an ideal opportunity to replace existing components with newer designs.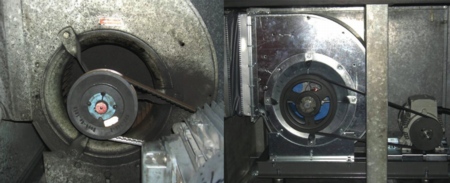 Obvious examples include replacing original standard fans driven by AC motors with more efficient backward-curved fans and DC motors to achieve higher efficiencies through reduced fan-power consumption. Similarly, the improved design and efficiency of modern heating and cooling coils, filters and thermal and acoustic insulation can all be used to good effect. And the same applies to any direct-expansion equipment installed in the AHU.
Not only does this approach increase energy efficiency, it also ensures compliance with modern standards and specifications.
It is also worth noting that refurbishment helps to reduce the overall carbon footprint of the project because of the embedded carbon associated with the manufacture and transportation of new plant — especially if it is not manufactured in the UK.
The devil's in the detail
In all such cases, the first stage is an initial inspection to assess the current condition, the potential for refurbishment and the cost implications of the options available. For example, while all the components of an AHU suffer a degree of age deterioration, some parts will be more affected than others.
Cooling coils, for instance, may have suffered a corrosive oxidation effect, especially in areas of high air pollution. There will also be considerable wear and tear on moving parts in fans and motors. In contrast, static components may well have years of life left in them.
Of course, there may be circumstances where major deterioration has occurred. In these instances, entire sections of the AHU can be replaced — an approach that also addresses the access difficulties often experienced with AHU plant. In both cases, the sections can be taken to site and assembled in situ.
Once the evaluation has been completed, a method statement and risk assessment can be produced, along with detailed costings to facilitate the decision-making process. In this way, a carefully planned refurbishment is also less disruptive compared to a new installation as the work can be carried out in phases outside normal working areas. Also, units serving critical areas can be isolated so the work is carried out in line with the business imperatives of the end client.
While this article has focused on AHUs, it illustrates general principles that can be applied to other HVAC plant such as fan coils, air curtains, chillers and boilers. Refurbishment will not always be the most appropriate option, but it should be included in the options and considered in the light of a full understanding of the situation. In this respect, there are advantages to teaming up with specialists that can offer both refurbishment services and new plant and help to determine the best solution.
Kim Rose is AHU sales engineer with Envirotec
Related links:
Related articles: