Getting to grips with 'Big data'

Roger Woodward of Tridium explains why data from BEMS is growing, and why it needs to be managed carefully for maximum impact.
In the not-so-distant past, energy management for many businesses still involved the laborious manual recording of information from meters — if it was collected at all. But over the last decade that has been changing.
For example, it was not that long ago that office lighting was probably controlled with a few contactors — perhaps two per floor with a fault condition. Now, lighting in today's commercial buildings is more likely to be controlled by intelligent fittings through a DALI network, bringing up to 40 points of data per light fitting.
On a floor with 200 light fittings, rather than four connected points to the building energy management system (BEMS), it would have 200 x 40 'soft points', making 8000 in total. If you add to this elements such as historical trending that may be taken every 15 minutes you have 4 x 24 x 8000; that's 768 000 pieces of data per day, or over 280 million each year. In the world of IT, this phenomenon is known as 'Big data'. In the face of such a flood, automation is a necessity not a luxury.
The rise of intelligent networks such as DALI and the installation of building-services equipment that comes with built-in controls has been driven by occupant demand for greater flexibility in work spaces, as well as the increasing drive to energy efficiency.
The rise of large amounts of data poses a challenge for building managers. One of the key reasons is that often no one has planned what to do with the data.
One rapidly emerging solution is the outsourcing of site management, both in terms of physical monitoring of and response to the BEMS alarms as well as collection and analysis of the data. For example, a number of companies are now offering SaaS (software as a service). The customer pays a monthly cost for the storage of data from the BEMS and also for online access to analysis software to manipulate the data. Concerns over how to store large amounts of data are reduced, and with careful planning the deluge of numbers can be turned into useful, business-focused information that will help to reduce energy use and cut utility bills.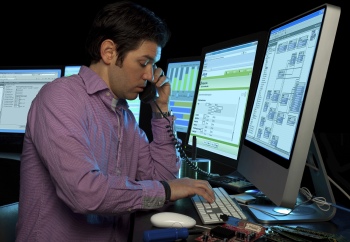 However, this utopia of data collection and analysis depends on a number of elements. Not least of these is the challenge of open systems. There is an increasing requirement for integration and control of the various connected 'standard' protocols (the lighting and those intelligent chillers). Yet every sector has its own standards: for example DALI for lighting; BACnet and LonWorks for BEMS; M-Bus for meters; and oBIX as a web-based enterprise-services interface.
Solutions such as the Niagara Framework offer an IT solution for the BEMS industry that makes tasks such as bringing in data from pulse or smart meters much more straightforward. Reaching across all platforms, open and proprietary, Niagara forms a bridge between energy data and the end-user. This is truly where BEMS and IT are crossing paths successfully to bring data that was once lodged firmly in the plant room to web-based tools with simple user interfaces.
Big data revolutionised marketing, giving marketing managers the power to understand their customers and to target segments with great accuracy. Large amounts of information now flooding into the energy-management field are set to give building owners and operators similar capabilities — in-depth knowledge about building performance and the power to optimise it.
Roger Woodward is managing director of Tridium for the UK and EMEA.
Related links:
Related articles: