Vaillant increases its commercial presence

Over the last five years, Vaillant has built up a substantial of the market for commercial boilers in the UK. Now the company has increased its product offering with a new range of sophisticated wall-hung boilers with higher outputs. Ken Sharpe has been finding out more.
The commercial boiler market has been evolving for a number of years from floor-standing boilers towards wall-hung or frame-mounted boilers operating in cascade to give larger outputs when required. Even as recently as four years ago, explains John Bailey, commercial systems director with Vaillant in the UK, wall hung boilers accounted for less than half the market; today they represent two-thirds.
During that period of four years, Vaillant has been working to develop a new offering for the wall-hung market and has now introduced it to the market. Called ecoTEC Plus, the new range comprises three boilers with output of 80, 100 and 120 kW. These new products are in addition to the ecoTEC 46 and 65 kW commercial boilers, nearly doubling the output available, and the ecoCRAFT range of floor-standing boilers.
The length of the development period for ecoTEC plus was due to the German parent company's burning desire to develop an innovative product specifically for the commercial market and to get it right first time.
Externally, the ecoTEC Plus range resembles a domestic wall-hung boiler, but a little larger in physical size. However, take the front cover off and it is quite clear that here is a very different product indeed.
Up to eight ecoTEC Plus boilers can be operated in cascade to deliver up to 960 kW. At the other end of the output range is the 15 kW that the 80 kW model can modulate down to.
The dominant feature inside the new range of boilers is the specially developed stainless-steel heat exchanger. That alone is one of the key reasons for such a long development period for these new boilers. Look at the exploded schematic on this page.
Stainless steel was chosen in response to customer demand —rather than aluminium which is used in most other manufacturers' boilers.
Stainless steel is a proven material for heat exchangers and can achieve long lifetimes, but it is much harder to work with during manufacture. Welding is a demanding operation, and the heat exchanger design can readily cope with the dirt and debris that occurs in heating systems. The new heat exchanger has a relatively high water content.
The heat exchanger is teamed up with a downward firing pre-mix mesh-knit burner that is fully modulating. The heat exchanger itself resembles a single-pass shell-and-tube heat exchanger, with flue gases passing downwards and the water upwards. The coolest flue gases come into contact with the coolest water as it returns from the heating system, maximising condensation.
These new boilers exceed the requirements of Part L2 of the Building Regulations for seasonal efficiency and incorporate control capabilities that match up to everything that a building-management system can do.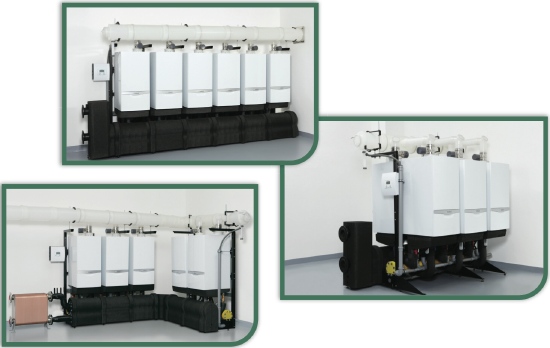 All three new boilers have the same case size, including a width of just 480 mm. The heat exchangers vary in size, but the key point of same-size casings is to simplify the building of cascade rigs using the modular framework components that have been developed alongside the boilers. Having the same case size for all boilers also enables different outputs to be mixed and matched on the same rig.
Rig components are available for inline mounting, back-to-back arrangements and corner installations. The components are kept in stock in the UK and are simply bolted together.
Other essential components for a rig include flue headers, pipework connections and low-loss headers to ensure a constant flow rate to boilers to prevent them overheating.
John Bailey's simple message is that the installer needs only to specify how many boilers will be installed in a rig and in what configuration — and the required components will be supplied, including thermal insulation for headers.
Not only are the rigs easy to order, they are also easy to install — with two men readily being able to assemble a full rig in just a day.
A major issue with wall-hung boilers with their compact heat exchangers is replacing boilers in old heating systems that cannot be thoroughly cleaned to remove all dirt and debris. Vaillant's solution is a range of floor-mounted plate heat exchangers to separate boiler plant from the heating system. There are four models of low-loss plate heat exchanger up to 720 kW.
The new commercial wall-hung boilers have been installed in working set-up in Vaillant centres of excellence around the UK and can be visited by contractors, consulting engineers and specifiers.
Vaillant commercial systems is a relative newcomer to the UK market, having been set up in 2006, with John Bailey being recruited to help establish the operation. He claims a 30% market share of the market for wall-hung boilers and expects to increase that share with the introduction of these larger wall-hung boilers, which come with a 5-year guarantee as standard.
Related links:
Related articles: