Talking biomass
The recently formed Biomass Heating Group will have an important role to play in shaping the future of biomass heating in the UK, as Ross Anderson explains.
Earlier this year, the Department of Energy & Climate Change indicated that it would prefer to deal with a single entity when discussing issues relating to biomass, rather than needing to consult several different bodies. This led to the formation of the Biomass Heating Group (BHG) in January 2013.
The role of the BHG will be to feed back real-life biomass experience to Government as well as providing expert advice that will help to shape future policies. It will also support the development of an accredited non-domestic training programme for engineers and the further education of system designers.
Given that biomass is proving to be the UK's most popular renewable heat source, these are important issues that need to be addressed, as there are a number of related factors that do not apply to gas- or oil-fired boilers. Consequently, people with limited experience of designing or installing biomass heating systems will benefit from additional education.
One of the reasons for this popularity is the relative ease of retrofitting a biomass boiler compared to retrofitting other renewable technologies such as heat pumps. This is because the flow and return temperatures are typically the same as fossil-fuel boilers, so there is no need to replace heat emitters. Biomass boilers can also be used to meet a wide range of heating loads, from 10 kW to over 5 MW, and are easily integrated with gas- or oil-fired boilers. The most efficient solution is often to use biomass to meet base heat loads and to 'top-up' with a high-efficiency condensing boiler when required.
In addition, the basic 'mechanics' of a biomass boiler are very similar to the more familiar fossil-fuel boilers, so many existing skills can be transferred.
However, there are a number of other areas that designers and installers need to get to grips with through appropriate education programmes and suitable accreditation.
One of the most obvious of these is the choice of biomass fuel. In the UK, most larger domestic and commercial boilers use either wood chips or wood pellets. These have very different qualities that affect the choice of boiler, combustion performance, provision for fuel storage, frequency of fuel deliveries and the cost of running the plant.
For example, wood chips tend to cost less, for heat output, than wood pellets but they have a much lower energy capacity. This means that significantly larger storage volumes are required to meet the same heating loads, as the energy available per cubic metre of stored wood chips is about 30% of the equivalent volume of wood pellets. Also, wood chips tend to be stored in large underground bunkers or silos which require extensive 'civils' construction and the fuel is delivered by tipper lorry, whereas, wood pellets are usually stored in an above-ground indoor or outdoor silo and are delivered by a 'blower' lorry.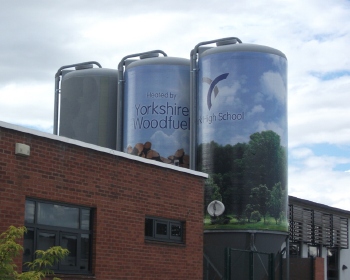 These are all issues that need to be considered and relayed to the end client when specifying biomass heating.
The Renewable Heat Incentive (RHI) has had a significant impact not just on the uptake of biomass heating but also its use. Before the RHI was introduced, it was quite common for a biomass boiler to be specified to gain the renewable-fuel element of planning consent or gain BREEAM points. Very often, it would then be left unused while heating needs were met by gas or oil fired boilers. This situation has changed because RHI payments are based on the heat actually generated by the heat source.
The Biomass Heating Group will play an active role in encouraging Government to maintain RHI tariffs at rates that encourage low-carbon heating, while also helping to ensure that systems are designed to qualify for RHI payments.
The Biomass Heating Group (BHG) was formed by the Energy & Utilities Alliance (EUA) and is led by two EUA divisions — the Industrial & Commercial Energy Association (ICOM) and the Heating & Hotwater Industry Council (HHIC). Both divisions are instrumental in the development of product and installation standards in their respective fields and have regular dialogue with Government departments and industry bodies.
The BHG draws from the ICOM and HHIC memberships and meets regularly with DECC to discuss renewable-energy policy, with particular reference to the RHI. Regular meetings are also held with DCLG regarding Building Regulations and DEFRA in relation to Ecodesign and Eco-labelling proposals.
The operational side of the RHI is managed by OFGEM. Being a member of the industry advisory group enables BHG to voice the concerns of the biomass industry and assist the working of the RHI.
Ross Anderson is director of the Industrial & Commercial Energy Association and was actively involved in creating the Biomass Heating Group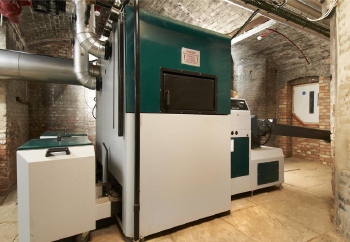 Related links:
Related articles: