School adds a biomass boiler to heating system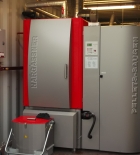 Okehampton College expects to see its energy bills fall by up to £25 000 a year following the installation of a 199 kW Hargassner wood-pellet boiler by Wood Energy. The boiler is housed in a unit that was built on site and integrated to the existing heating system via flow and return connections. The unit houses the fuel and the boiler.
The boiler is next to the main boiler house, with its gas-fired boilers.
The school was introduced to Wood Energy following consultations with EDF Energy.
Related links:
Related articles: