Potterton Commercial adds to Sirius range of boilers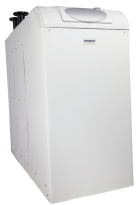 Potterton Commercial has extended its Sirius range of boilers to offer outputs from 50 to 525 kW. There are new outputs for single floor-standing boilers of 400 and 525 kW. These boilers have a dual-burner configuration that enables them to modulate down to 10% of full output.
Features include a stainless-steel triple-pass heat exchanger and compact design.
For smaller commercial applications, single boilers have outputs from 50 to 110 kW and up to 440 kW using cascade pipework kits.
These boilers include a 5-year parts and labour warranty.
Related links:
Related articles: