Boiler upgrade supports environmental policy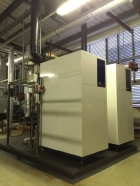 Such is the efficiency of modern boilers that two 200 kW boilers at Fibercore's optical-fibre manufacturing in Southampton have been replaced with two 150 kW units. MHG Heating supplied two ProCon HTP gas-fired boilers with integral plate heat exchangers to maintain close temperature control in the Class 10 000 clean rooms. The boilers were specified and installed by Accolade Building Care.
Accolade managing director Chas Speed explains, 'The inclusion of an integral plate heat exchanger in the ProCon HTP separates the boiler from the existing distribution system, so it wasn't necessary to flush the system and rebalance it. This enable us to keep disruption to a minimum.'
The new boilers are fully modulating, which will help maintain efficient performance as heat loads vary.
Fibercore Engineering facilities manager Peter Maton explains, 'Being ISO14001 certified and having received a Queen's Award for sustainable development, means Fibercore is committed to minimise its environmental impact through energy efficiency and other measures, so the efficiency of the boilers was a key consideration. We anticipate around a 20% reduction in gas consumption and associated carbon emissions from this boiler upgrade.'
Related links:
Related articles: