Servicing high-rise living

London's new high-rise living spaces create unique opportunities to maximise the energy saving benefits of district heating or centralised boiler systems says Martyn Neil of Danfoss.
Although the 'St Paul's heights' policy of 1937 put a limit on the height of new buildings to protect views of London's skyline, tall buildings are on the rise in central and suburban locations. Around 260 towers are currently under construction or in the planning phase in the capital. They vary between 20 and 60 storeys — around 80 to 200 m high). Over 80% of these new towers are being built primarily for residential use, rather than the commercial office space we usually associate with London's existing skyscrapers.
Tall buildings pose unique design and engineering challenges and opportunities — particularly in terms of maximising floor space and reducing the energy used for heating and cooling.
Gone are the days when each apartment would be fitted with an individual gas boiler. Most newly built residential buildings now utilise district and community heating or centralised boiler systems. This can optimise the efficiencies that dense population living provides and enable the use of low-carbon energy sources such as combined heat and power (CHP).
However, the efficiency of the transfer from production of energy to the end user is still key to maximising the potential energy savings. This is where low supply and high differential temperatures, working with a diversified heat load, can reduce energy loss between the energy source and the dwelling. Adding new technologies, such as 'microplate' heat exchangers, highly accurate controls and good system balance can ensure that the operation of the system is as good as the design.
In tall buildings, system pressure becomes a major issue and is critical to the design and layout of services. In simple terms, the static pressure in a heating and cooling system is 0.1 bar per metre of height. This doesn't tend to pose a problem for low-rise residential or commercial system design, but in a 30-storey building roughly 100 m high there could be 10 bar static pressure operating on equipment in the basement. Add in the dynamic pressure from the pumps and a breach of the 10 bar maximum pressure rating, that is common for some types of pipework, radiators, and underfloor heating manifolds, will occur. You will also commonly breach the 16 bar maximum pressure rating for pumps, valves, and boilers.
Rather than uprating components to deal with these high pressures, and so increasing costs, the most commonly used solution is to break the system into two or three sections using heat exchangers.
In tall buildings heat exchangers can be used to take the energy from the low pressure plantroom and transfer it into the high pressure secondary side, where it is distributed to apartments. Having one exchanger serving the lower section of the building and another serving the top half of the building can minimise the components exposed to the high system pressure experienced in the building.
Location of these heat exchangers varies in different building designs, but apartment building designers tend to favour the basement rather than halfway up the building. Whilst utilising the basement has the disadvantage of exposing some components at the bottom of the riser to high system pressures, it saves taking up valuable building space that could be used for another £1 million apartment!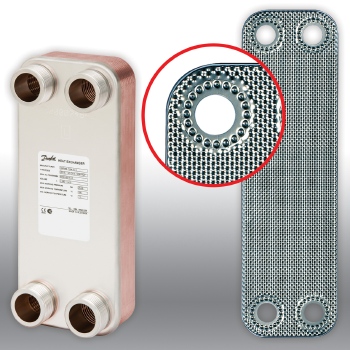 When selecting pressure-breaking heat exchangers, any loss in the exchanger represents unused production of energy. Efficiency of exchange should, therefore, be the primary consideration when specifying these products.
With this in mind, Danfoss has developed a range of plate heat exchangers that delivers exceptional performance, efficiency and flexibility in a compact design. Utilising Danfoss's patented Micro Plate technology with its dimple pattern design, the transfer of heat can be enhanced by 10% over heat exchangers with traditional fishbone designs, where the large channels of flow utilise less of each plates' surface area.
This technology can also reduce the loss of pressure in the exchanger by 35%, which reduces the required pump head and increases the life of the exchanger due to its reduced propensity to scale and block. All of this can result in a smaller, more efficient transfer of heat, with minimal temperature loss in the exchange. These heat exchangers are designed to meet the needs of virtually any heating and cooling application — including heat networks and centralised boiler plants. In high-rise buildings, they can be used as pressure breakers for heating, cooling and hot-water production.
Efficient control of heat exchangers is also an important factor in effective distribution of heat. Utilising pressure-independent control valves makes it possible to combine a differential-controlled balance with high control-valve authority. This ensures the system achieves the design temperatures and matches the requirements of the system load.
Indeed, Danfoss can design and prefabricate a complete packaged unit to a bespoke project specification. This package would typically include the Micro Plate heat exchanger itself, a pressure-independent balancing and control valve, ultrasonic energy meter, controls, pumps, strainers, and ball valves — all delivered as a single component ready to be installed with just four pipe connections.
London's new high rise developments look set to change not only the City skyline but also the UK building services industry. We believe the solutions for making centralised HVAC systems work with maximum efficiency in today's tall buildings can be found in new technologies and by working with specialist manufacturers who understand the challenges of skyscraper design.
Martyn Neil is commercial product sales manager for Danfoss.
Related links:
Related articles: