Combining comfort and energy efficiency

While comfort is important to a hotel's guests — and to the hotel itself — the energy associated with delivering that comfort is also important. Martin Passingham of Daikin UK explores innovative total climate-control solutions that reduce energy consumption, whilst creating the perfect indoor environment.
A hotel's reputation is based upon how welcome and comfortable guests feel during their stay. It depends on a multitude of factors — including interior decoration, onsite facilities and location; a key influencer is the building's climate control.
Silently influencing a person's perception of the building, the indoor temperature can play a significant role in determining the reputation of a hotel, particularly when considering the impact of temperature on a good night's sleep.
The UK Sleep Council advises that to get a good night's sleep the room temperature should ideally be between 18 and 21°C. Too-high a temperature will prevent the body temperature dropping, which switches on the 'sleep mechanism'. Alternatively, the room being too cold can also hamper sleep and be a danger for the young and elderly.
Furthermore, well-known travel review site, Trip Advisor's TripBarometer found that 63% of global travellers stated air conditioning as a requirement when they looked for accommodation, with 40% proclaiming it was more important than breakfast.
Climate control is therefore essential for providing guests with the ideal temperature all year around. However, as Building Regulations continue to evolve and the focus on green building continues to increase, reducing energy consumption is also of paramount importance.
HVAC services account for about 65% of a hotel's energy consumption. An average hotel incorporates ventilation, space-cooling, hot-water and space-heating systems, which all operate separately to consume significant levels of energy and occupying essential space.
Within an increasingly competitive UK market, reducing outgoings can create an economic edge for a hotel. The Carbon Trust estimates that a 20% cut in energy costs represents the same bottom-line benefit as a 5% increase in sales.
Therefore, finding an energy-efficient, fully integrated climate-control solution can positively impact on a hotel's bottom line and ability to create a comfortable indoor environment for its guests.
One approach to realising a total building solution is Daikin's Variable Refrigerant Volume (VRV) technology. Suitable for medium to large hotel applications, it can provide a total solution for heating, cooling, ventilation, hot water, air curtains and central control.
An inverter-controlled drive varies the speed of the compressor according to the immediate cooling or heating requirement — enabling precision zone control to be achieved for each floor, room or space. Maximising seasonal efficiencies, this level of control prevents energy wastage whilst enabling each room to be at the optimum temperature for its occupants.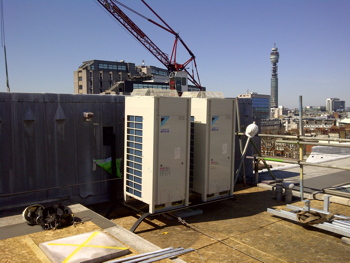 Such a system can have heat-recovery capabilities, enabling space heating and hot water can be provided for free, using heat recovered from areas of the system that are being cooled. Heat recovery is a key benefit of a fully integrated climate-control system, heat recovery can positively impact running costs.
A more recent development is to also vary the refrigerant temperature to create a Variable Refrigerant Temperature (VRT) system, which automatically adjusts the refrigerant temperature to prevent cold draughts from indoor units in cooling mode. When the room is near its desired temperature, the temperature of the air from the fan-coil unit is increased to prevent discomfort for the room's occupants.
VRT technology enables the system to consume less energy at part-load conditions and subsequently improve seasonal efficiency by up to 28%.
VRV systems also offer installation benefits. Their modular design enables a systems to be designed, built and commissioned floor by floor. This can significantly reduce costs and minimise disruption to the hotel and its guests.
An example of the energy-efficiency benefits of a VRV system is The Bloomsbury Hotel in London, where a system provides climate control for 153 bedrooms, meeting and public spaces, along with the bar and restaurant. Michael Neve, the hotel's general manager, reports, 'Our energy bills are 23 to 26% lower than the same period last year, before the system was changed.
He further estimates that the VRV system uses 55% of the hotel's entire energy, so savings over the previous system are 27 to 42%, with an average of 32% — exceeding the original 30% energy-savings target.
The hospitality sector is under increasing pressure to compete in an ever-expanding market, with rising energy costs. With the success of the hotel industry largely based on reputation, building-services engineers and consultants should seek fully integrated solutions that provide superior climate control and offer the highest seasonal efficiencies to minimise energy consumption.
Martin Passingham is product manager for DX at Daikin UK.
Related links:
Related articles: