Boiler meets 2018 NOx requirements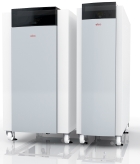 Elco's Trigon XL range of floor-standing gas-fired boilers achieves ultra-low NOx emissions complying with Class 6 (2018) requirements with emissions as low as 34 mg/kWh. The rating helps specifiers when assessing project criteria under BREEAM, with three credits available if a building achieves less than 40 mg/kWh.
These low NOx emissions are achieved using a commercially proven premix burner system that includes a fully modulating water-cooled cold-flame burner. This is combined with an optimised combustion system, stainless-steel heat exchanger and gross seasonal efficiencies of up to 97.5%.
There are seven models with outputs from 150 to 570 kW. Working pressure is 8 bar with a 30 K ∆T.
Related links:
Related articles: