Offering FMs certainty in their water treatment
Alan Edwards of the CSCA explains why a relatively new Association is offering reassurance to FMs and building owners that their water treatment will be carried out to recognised and audited standards.
With modern highefficiency design, water flow rates are often far lower in closed chilled water and low/ medium temperature hot water systems than we have been used to in the past. This leads to problems with fouling and corrosion, often during the early life of the system.
Cleaning and treatment are essential for these closed systems. Sensitive materials such as thin-walled carbon steel and aluminium can be employed as a cost engineering measure and make regular professional monitoring and ongoing treatment critical.
M&E specialists and facilities managers therefore depend on the performance of the experts called in to deal with water treatment and cleaning. These service providers carry out initial system cleaning and routine water quality maintenance. Many purchasers of these services are realising that their performance can be variable.
Confidence for clients
How is the non-specialist purchaser to find the right service provider for this important aspect of their building? The growing number of people asking this question lead to the establishment of the Closed Systems Control Association (CSCA).
The concept and purpose of this new organisation was presented to BSRIA members and other interested parties at pre-launch seminars and 30 organisations immediately volunteered to become Founder Members in order to provide essential start up and development funding.
The benefit for FMs and building owners is that water treatment service providers who become CSCA Registered Members agree to be routinely independently audited by CSCA - appointed Assessors, to verify that their management procedures are compliant with the published standards, such as BSRIA BG29/2012 and BG50/2013; as well as BS8552:2012.
Attention on standards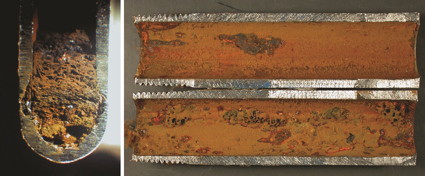 A key aim of the CSCA is to focus the attention of their membership on Section 6 of BSRIA's BG50/2013 ('Water treatment for closed heating and cooling systems') which is devoted entirely to "programme management" and which emphasises the need for "a clear and documented framework of roles and responsibilities".
The BSRIA publication emphasises the importance of monitoring to evaluate the effectiveness of water treatment programmes. It also mentions use of sensors (e.g. pH, LPR) which may also be linked to the building management system (BMS).
Obviously, the more sophisticated monitoring arrangements will tend to be reserved for high-value, sensitive projects but for more run-of-the-mill systems, relatively inexpensive corrosion/fouling monitoring units are readily available, and their inclusion in the routine maintenance treatment programme in particular can help provide early warning of potential problems, allowing effective preventative action to be taken before any significant damage is done.
The CSCA registration and auditing scheme has been introduced in the expectation that it will encourage registered water treatment service providers to conform to best practice in order to improve the likelihood of attaining and maintaining clean closed water systems.
As Martin Ronceray, principal consultant at BSRIA and a member of the CSCA management committee points out: "The CSCA will reassure facilities management companies that their cleaning and water treatment service providers are being audited independently by the CSCA to the CSCA Standards for Service Delivery".
Alan Edwards is CSCA Co-ordinator. See the CSCA website (see link below) for full details on membership
Related links:
Related articles: