Acoustic pipework: A sound solution?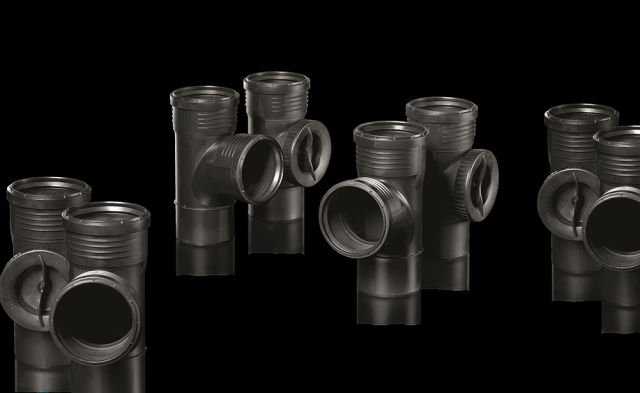 Is reluctance to move away from traditional materials still holding us back when it comes to drainage pipes and fittings? 
Greg Austin discusses five key materials used for drainage pipes and fittings and how knowledge of their qualities can help with better selection.
The soil and waste drainage system is a critical part of any building, and one in which failure could be costly, disruptive and unpleasant. Yet, when it comes to these systems, installers, specifiers and construction professionals will often go with the same specifications again and again - missing out on newfound benefits, simply because the solution works at the right cost, without impacting efficiency.
Each pipework material choice comes with its own advantages and disadvantages, but before I explore the merits of five specific materials in more detail, it is important to consider the demands of drainage pipes – and how this will impact product selection.
It's not uncommon for acoustic solutions to take a back seat. Just think how much hotels invest in providing the ideal sleeping experience for their guests. Expensive beds, comfortable mattresses, pillows, bedding… every detail of comfort contributing to a good night's sleep is considered. Except perhaps the sound from the bathroom on the other side of the wall. A sound that no one wants to hear.
In close-quarter environments such as hotels, houses or even offices, the need to minimise bathroom sounds is important, and acoustics is something that could, and should, be considered at the design stage of a project. Waste water noise disturbs us when we are sleeping and working, which can result in a flood of complaints to hotel staff, landlords, sanitary engineers and installers.
Fortunately, the availability of acoustically optimised pipework is offering those working in the industry an opportunity to provide innovative solutions which reduce noise from operating waste pipes.
However, which key attributes should we be looking out for?
There are the obvious performance factors like acoustic function (how well the pipe can dampen the noise of flushing water or waste as it passes through), as well as economic factors such as the lifespan, cost of the pipe and connection methods.
Depending on the material choice, piping systems can be installed in several ways. Mechanical clamps, push fitting, solvent welding, butt welding or electrofusion welding, are all ways in which pipes can be connected. Notably, each system incorporates different costs and labour requirements.
We must also consider the smoothness of the pipe bore and how well it allows water to flow and therefore avoids blockages. While for metallic pipes, we must factor in susceptibility to corrosion, including whether any coatings are required.
Now let us examine five material options for soil and waste drainage systems; enhanced polypropylene composite, mineral-reinforced polyethylene, cast iron, HDPE (high-density polyethylene) and PVC (polyvinyl chloride).
Enhanced Polypropylene Composite is relatively new to the UK market, but is the latest demonstration of the UK building products market taking the lead from European product development. The material is proven, used for many years in Europe and now finally delivering benefits to UK installers.
Geberit Silent-PP is made from mineral reinforced polypropylene, improving the physical properties of the material and achieving first-class acoustics optimisation, effectively reducing the natural vibrations and noise.
Crucially, it is comparative in price to PVC pipes and fittings, which makes it a fantastic choice for acoustically sensitive applications such as hospitals, hotels and residential developments with close quarter living environments. In fact, enhanced polypropylene may even provide an opportunity to deliver overall project cost savings compared to lagged PVC by reducing or removing the need for lagging on some projects.
Another important factor is the installation itself. Enhanced polypropylene composite can be installed using the push fit installation system – Installers are simply required to push the components together and rotate to realign them, reducing downtime and minimising costs.
Whether it be in a residential complex, a hotel or in a meeting room, noisy discharge pipes are irritating - a problem that is easily eliminated with a waste and drainage system comprised of mineral-reinforced Polyethylene.
These pipes and fittings, optimised as they are with respect to sound insulation and hydraulics, are suitable for both discharge stacks and floor connections and ensure quiet and effective drainage in every kind of building. The mineral-reinforced plastic is much denser than its HPDE and PVC counterparts, reducing vibrations and noise.
For mineral-reinforced plastic, there are two main connection methods, butt-welding and electrowelding. However, electrowelding is recommended to ensure a smooth bore is maintained throughout the system, ensuring minimal noise transfer.
In comparison, cast iron is an alloy of iron and carbon that provides intrinsic acoustic properties, as the material is both dense and thick, preventing air transmission and reducing structure-borne sound. However, cast iron is more expensive to purchase and install when compared with plastic alternatives.
As an iron-based material, it is susceptible to corrosion; whilst modern cast iron pipes have more advanced coatings, many older buildings are inevitably facing corrosion issues after 40 or 50 years of service from their original drainage systems.
Most significantly, cast iron pipes are also more likely to build up depositions than a plastic pipe due to a higher chance of roughness of the pipe bore. Through decades of constant use, this surface roughness will gradually worsen, leading to serious blockages and clogging, causing leaks if left untreated.
Since HDPE isn't as dense and lacks heightened level of mass and wall-thickness, it is not as effective as cast-iron and polypropylene composite at reducing structure-borne and airborne noise. However, HDPE is becoming an increasingly popular material for drainage pipes and fittings in commercial buildings, as it holds lightweight flexibility and installation benefits.
Often, the initial investment in HDPE can be outweighed by reduced maintenance costs and extended system life cycle – not to mention the peace of mind that comes with a simple, strong and reliable welded solution.
HDPE pipes have a smooth bore which is maintained throughout their lifetime, helping to repel any waste that might attach to the inside, and they are reasonably hydrophobic – the interior of a HDPE pipe can often be cleaned thoroughly simply by flushing the toilet or running the tap.
It is also a chemically inert material and insensitive to high water temperatures, able to withstand hot water up to 90°C and even boiling water, unlike PVC which has an upper limit of 75°C. This is particularly important in applications such as hospitals due to the nature of waste deposited through the drainage system.  
Currently around 75 per cent of soil and waste pipes and fittings sold in the UK are made from PVC, which is incredibly lightweight, cost-effective and easy to install. However, like HDPE, PVC is a relatively thin material and does not possess increased pipe wall-thickness and mineral reinforcement properties. As a result, PVC does not offer enhanced sound performance attributes in the same way as cast-iron and polypropylene composite.
PVC is also a relatively brittle material, particularly in cold weather. It is not uncommon with commercial applications for PVC drainage to be installed, only to be damaged later by subsequent contractors. This, along with the need for lagging in acoustically sensitive applications can add unwanted project costs.
Ultimately, the choice of material for waste drainage pipes and fittings will come down to a number of considerations, but the key takeaway is to not rule out different or new materials that have strong acoustic properties. As new product development continues to evolve and with learnings from the European market too, efficiencies and enhancements can be applied to new projects.
Greg Austin is assistant product manager at Geberit
Related links:
Related articles: