Making an economic splash with CHP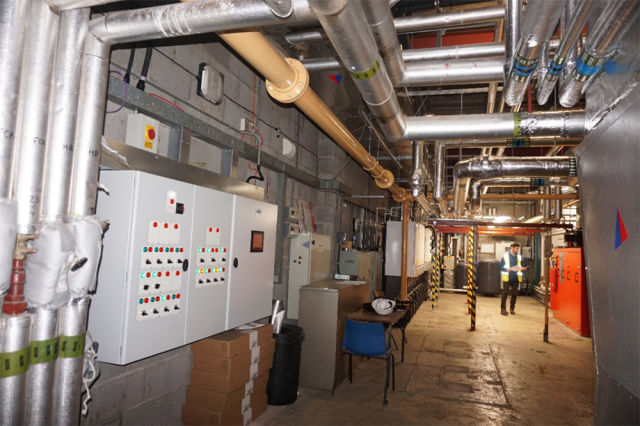 In buildings with high, constant demand for heat, combined heat and power is proving an economic tool to long-term savings. Mark Gibbons looks into the technology.
Reducing energy consumption always makes perfect business sense, but arguably especially so in today's uncertain times, helping make our buildings more cost-effective to run while minimising their environmental impact. And it's particularly important in leisure centres, where energy costs account for as much as 30% of total operational costs – greater than in any other industry sector.
So where to start? As a large user of energy in all buildings, heat is a frequent target for efficiency measures. This is particularly relevant in leisure complexes with swimming pools, due to the large volumes of water that must be continuously heated.
Electricity usage is also high in leisure facilities, especially where it is used extensively for ventilation, lighting, fans and pumps.
One technology that offers compelling financial and environmental advantages when refurbishing sites like these is Combined Heat and Power (CHP). CHP generates heat and power on site simultaneously, recovering the 'waste' heat that traditional power stations reject to atmosphere for space heating, hot water – or for heating swimming pools.
As a result of this highly efficient process, CHP is generally around 30% more efficient overall than conventional generation. However, the savings don't stop there. The financial benefits reaped from CHP are further boosted by the ability of this technology to generate electricity on site at lower gas prices. Electricity costs are currently at around four times those of gas, and the business case for CHP only strengthens as the 'spark spread', or difference between prices, widens.
But potential savings are one thing. For a real-world example, let's consider Penrith Leisure Centre in Eden. Since Eden District Council refurbished the heating system at the Centre with a Remeha turnkey CHP and boiler solution, total primary energy usage has fallen by an impressive 35%.
Forward-thinking Cheshire East Council has also adopted CHP as the most effective means of making its leisure centres more energy efficient. The move comes as part of the Council's wider commitments to reduce energy consumption and environmental impact across its estates, with the longer-term ambition of becoming carbon neutral by 2025.
Cheshire East Council had a programme in place to upgrade the existing failing boiler plant at Macclesfield Leisure Centre as part of multiple refurbishment projects, and the energy department team were keen to introduce CHP technology.
"CHP was the obvious choice for us when the opportunity became available for the Council energy department to improve the efficiency of Macclesfield Leisure Centre," explained Colin Farrelly, Energy Manager at Cheshire East Council. "The leisure centre is one of our largest energy users and, as such, the impact of applying CHP will be significant across the whole estate."
How, then, to reap the full commercial benefits from CHP? To generate maximum returns, the CHP unit needs to run for long periods of time during the day, so the first step is to check that there is sufficient demand. Leisure centres are, in the main, in constant use, opening almost every day of the year from early in the morning until late at night. And as Penrith and Macclesfield Leisure Centres each have two swimming pools, both are well-suited for CHP.
At Penrith Leisure Centre, Mechanical and Electrical engineers Thomas Armstrong recommended replacing the old plant with a Remeha R-Gen 20/44 condensing CHP unit working in conjunction with three Remeha Gas 310 Eco Pro condensing boilers.
At Macclesfield Leisure Centre, the design scoped by consulting engineers SVM-Building Services Design (SVM-BDS) identified a Remeha R-Gen 50/100kW condensing CHP unit operating alongside six Remeha Quinta Ace 160 condensing boilers.
Pairing CHP with high-efficiency condensing boilers is an effective means of ensuring that the system performs to its full potential. The CHP unit operates as the lead boiler with the condensing boilers providing additional heat during peak periods when required to optimise overall system efficiency.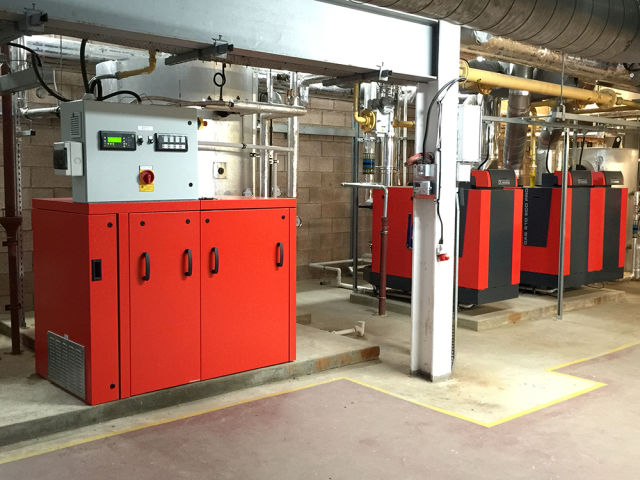 However, accurate sizing of the CHP unit and good integration are also critical to maximise the saving benefits. Good suppliers will be able to offer valuable advice in both these areas.
"A major benefit for us is that the Remeha team have an in-depth understanding of both technologies which has resulted in a well-integrated system at Macclesfield Leisure Centre," said Paul Towler, Director at CM Oxendale, the project M&E Contractor. "They supported us throughout, from the design stage and hydraulic arrangement to the final 'fine tuning' of the system for optimum performance."
Remeha's CHP team also worked closely with Thomas Armstrong throughout the project at Penrith Leisure Centre. "At the initial design stage and during the installation, the Remeha team were there to offer help and backup," said Thomas Armstrong's Stephen Clarkson.
Using one supplier brings numerous advantages, as Sean Langton, Director at SVM-BDS, explained. "Working with Remeha has ensured a smooth delivery and installation process," said Sean. "It will also simplify future maintenance and servicing, as all spare parts can be accessed immediately from a central hub."
Just as early engagement with the supplier helps facilitate best practice CHP installation, so does good collaboration across the project team. The plant upgrade at Macclesfield Leisure Centre was just one of many refurbishment projects occurring at the same time. And as the leisure centre needed to remain open throughout the works, minimising disruption was the key priority for Engie, the Council's principal contractor and FM Provider.
"Ensuring that the building and its services were unaffected during the works required careful planning, co-ordination and collaboration," explained Karl Durber, Engie's Senior Projects Manager. "Working in a live environment can present complex logistical challenges. But this was a really good team effort with regular progress meetings ensuring excellent communication throughout the project."
Given that CHP is a specialist piece of plant, both Cheshire East and Eden District Councils have implemented a Remeha service plan to ensure that the CHP operates continuously and at optimum performance throughout its lifetime. Remote monitoring is an important component of the service programme as an estimated 85% of reported CHP faults are able to be corrected and reset remotely.
From a maintenance perspective, the remote monitoring service provides peace of mind that, if a problem should occur, it can be easily resolved – often without the need for the intervention of the FM provider or for a service visit.
At both leisure centres, the CHP units have been running continuously, using all the heat generated to heat the swimming pools, provide space heating throughout the complex, feed the Air Handling Units and serve the hot water demand.
At Macclesfield Leisure Centre, the scheme has proved so successful that the Council is now installing a second Remeha R-Gen CHP unit in another of its leisure centres.
"Since 2009, when Cheshire East Council was established as part of structural changes, the Council has reduced its CO2 by 40%," added Colin. "Alongside our environmental goals, the Council has the ambition to improve the health of residents by providing them with access to leisure centres. So, it makes perfect sense to make them as efficient as possible – and CHP is helping us do just that."
Mark Gibbons is Remeha CHP's national sales manager
Related links:
Related articles: