Bringing our buildings back into service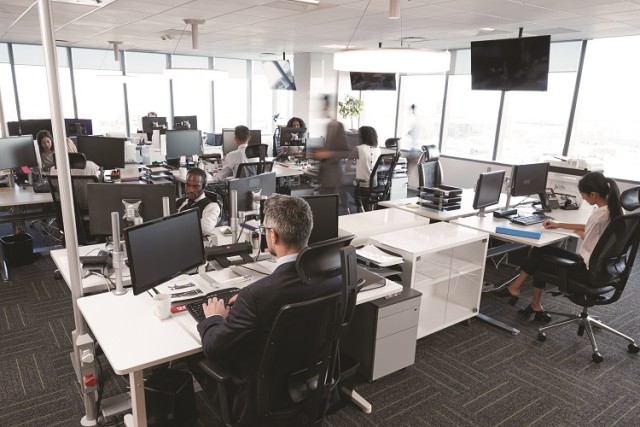 As lockdowns ease, the challenge of safely bringing buildings back into use emerges. Lee Hargreaves of Buro Happold looks at what will be needed. 
As governments around the world begin to lift lock down restrictions, building owners and their Facilities Management (FM) teams face a new challenge - bringing them back into service. In this article we summarise the areas of focus for those tasked with bringing buildings back into use, and the challenges facing the built environment.
Many buildings currently stand unoccupied. Consequently, building owners and their FM teams will now be implementing plans to reactivate their building services systems and equipment, reviewing and reassessing their applicability and organising responsible maintenance for safe opening and occupancy.
Modern commercial workspaces will need reconfiguration for more space, lower occupancy levels and optimum ventilation.
Building owners and FM teams have had a busy few months, first isolating and then periodically checking property systems and equipment. Emphasis will now shift to preparation for phased re-occupancy, which will include:
Applicability of current systems, design checks and required changes to systems and equipment.
Operation and maintenance (O&M) strategies and procedures for safe operation.
Checks on the appropriateness of workplaces, cleaning regimes and procedures for responsible occupation.
Applicability of current systems, checks and operational changes to systems and equipment
Building owners and operators will want to maximise natural ventilation strategies, increase air supply levels and air change rates while extending operation of openable windows. This will include flushing workplaces with fresh air for a couple of hours before and after occupation.
For modern buildings that are sealed and rely entirely on mechanical ventilation, such as those using CO2 demand control, this will require system controls to be set at lower parts per million (ppm) levels for continuous – potentially 24/7 – ventilation. Increased air change rates will be necessary for setback levels when the building is unoccupied.
Existing ventilation equipment will need to be assessed for its applicability to new occupancy requirements.
Spaces will need to be reviewed for ventilation that adheres to recommended standards, regulations and revised occupancy levels. Such reviews will be particularly important for buildings that have not been recently renovated as they will not have been assessed against the latest criteria.
For buildings where the ventilation design mixes extract air with supply air – for example, recirculation or basic heat recovery systems – it will be important that systems are set to operate in full fresh mode, particularly if they are installed in buildings with intermittent or higher occupancy densities.
Recent studies indicate that closed environments with minimal ventilation strongly contribute to a characteristically high number of secondary infections[1]. The Federation of European Heating, Ventilation and Air Conditioning Associations (REHVA) is recommending that toilet extract ventilation systems operate to their optimum required volumetric flow rate and are continuously on both during and after occupied periods.
The optimisation of these engineering systems for increased fresh air levels to dilute, together with an organised and monitored reduced level of occupancy, is a sensible way to approach phased re-occupation.
O&M strategies and procedures for safe operation of systems and equipment
The operation and maintenance of systems and equipment within buildings that have had limited or low occupation is an area of important focus before reoccupation. This will include preparation to bring forward routine inspections, testing and seasonal commissioning of certain equipment and systems with reference to the important guidance contained within the following table.
| | | |
| --- | --- | --- |
| System | Requirements | Standards and technical guidance |
| Water | Flushing and cleaning of tanks particularly connected to potable water systems or shower facilities.   | Approved code of practice L8 - The control of legionella bacteria in water systems HSG 274 Part 2 Part 2: hot and cold water Systems CIBSE TM13 Minimising risk of legionnaires disease https://www.hse.gov.uk/news/legionella-risks-during-coronavirus-outbreak.htm   |
| Cooling and heat rejection | Inspections and preventative maintenance for Cooling towers and other evaporative cooling and heat rejection systems. | HSG 274 Part 1 evaporative cooling CIBSE TM13 |
| Fire detection, fire alarms, fire suppression and other associated equipment | Periodic inspection, routine testing and servicing of equipment including Portable Appliance Testing (PAT) to be up to date. | BS5839 Part 1 Code of practice Fire detection and fire alarm   BS EN 12845 Fixed fire fighting systems |
| Electrical systems including emergency lighting | Safety checks, inspection and testing and maintenance of equipment that has not been in use. | Electricity at Work Regulations 1989 & BS7671 (18th edition Electrical Regulations) BS5266-1 Emergency lighting and BS EN 50172 Escape Lighting |
| Heating | Heating systems may have been operational in March and will now be approaching summertime operational mode. Up to date annual gas safe checks.  Safety inspections and maintenance testing of equipment that has not been in use. | HSE A guide to landlords' duties: Gas Safety (Installation and Use) Regulations 1998; Gas Safe Guidance |
| Ventilation | Filtration replacement maintenance and fan performance optimisation should be completed. | BSI Standards and Regulations BESA Guide to Good Practice - Internal Cleanliness of Ventilation Systems   |
| Passenger and Goods lifts | Check on 6 to 12-month maintenance compliance under LOLER. Inspection, testing and maintenance  of equipment that has not been in use. | HSE Guidance - Thorough examination and testing of lifts |
Cleaning and organisation of the office
Guidance has been issued stating that employees exhibiting Covid-19 symptoms should stay away from the workplace while those able to work from home should continue to do so. Businesses have adapted to staff communication challenges via online meetings; it is expected that this will continue to be the norm for a number of practical reasons, such as lessening the need to commute using confined public transport. Plans could include lower workplace occupancy levels until such time that there is a significantly reduced level of risk or a vaccine is developed.
The main reported forms of transmission of viruses such as Covid-19 are coughing or exhaling, which releases droplets onto surfaces and objects; a desk, table or phone might typically become contaminated in the workplace. Infection can occur when someone then makes manual contact with these droplets before touching their eyes, nose or mouth. To mitigate this risk, stringent cleaning regimes will be routine. Should someone feel unwell at a workplace during the day, guidance has been issued stipulating that a dedicated room be made available to allow safe isolation ahead of transfer to a health facility. Access to and from these rooms, along with the provision of ventilation within, will need careful consideration [2].
Enhanced and regular cleaning regimes will be commonplace.
Enhanced cleaning regimes will include the regular cleaning of susceptible surfaces – such as desks, tables and door handle coverings – together with ready availability of hand sanitiser. Good organisation of hand washing facilities is crucial along with prominent permanent display of "catch it, bin it, kill it" advice. CIBSE recommends a pre-occupancy inspection to inform and define the extent, timing and order of maintenance and cleaning [3].
A buildings ventilation strategy and occupancy density in workplaces should be reviewed to ensure that all occupied rooms and spaces have good natural ventilation. Buildings with mechanical systems and equipment should be set for full fresh air provision; it is critical to make certain that the equipment is well maintained – free from dust and particles – and operation is fully functional and optimised.
More detailed guidance is contained in the references and further reading list below.
References
[1] How to operate and use building services in order to prevent the spread of the coronavirus disease (COVID-19) virus (SARS-CoV-2) in workplaces – REHVA April 3rd 2020 https://www.rehva.eu/fileadmin/user_upload/REHVA_COVID-19_guidance_document_ver2_20200403_1.pdf
[2] WHO Getting your workplace ready for COVID-19 https://www.who.int/docs/default-source/coronaviruse/getting-workplace-ready-for-covid-19.pdf?sfvrsn=359a81e7_6
[3] CIBSE Covid 19 Emerging from Lockdown - Safely reoccupying buildings 19 May 2020 http://www.cibse.org/coronavirus-covid-19/emerging-from-lockdown
Further reading
Engineering healthy workspaces – Buro Happold John Swift https://www.burohappold.com/articles/engineering-healthy-workplaces-considerations-in-response-to-covid-19/
BESA SFG 20 Mothballing and reactivation COVID 19 - Building Maintenance https://www.sfg20.co.uk/media/45056/sfg20-building-maintenance-guidance-covid-19.pdf
CIBSE Recommissioning of lifts and escalators post lockdown http://www.cibse.org/coronavirus-covid-19/emerging-from-lockdown
CIBSE Journal Preventing Covid spread in buildings March 2020 https://www.cibsejournal.com/technical/preventing-covid-19-spreading-in-buildings/
Building Engineering Services Association Working on site note https://www.thebesa.com/media/837481/1-coronavirus-working-on-site.pdf
Related links:
Related articles: