Overcoming the power distribution challenges of shallow floor voids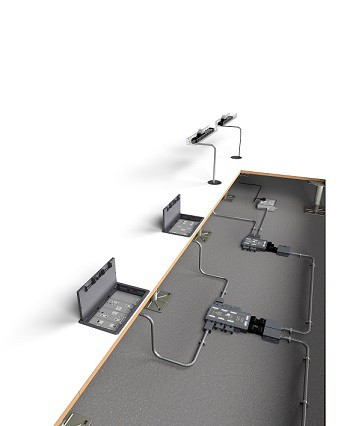 How can the challenges of electrical distribution network installations in shallow floor voids and listed buildings be addressed?
Over the past 30 years, the amount of tech used in commercial buildings on a day-to-day basis has increased dramatically as working practices have made occupiers more and more reliant on IT equipment and the need to charge portable devices. This means more sockets are required across the floor plate, with sufficient capacity for resilience and futureproofing.
In new builds, floor voids are usually designed with sufficient capacity for the level of services required. But even here, obstacles in the void, architectural features or a focus on maximising headroom can result in challenging congestion or inconsistencies in the floor void.
In existing buildings, constructed before technology became such an integral part of the way we live and work, capacity in the floor void can be more of an issue. Heritage buildings in particular often feature varying void depths but a consistent approach to installing the power distribution is preferred throughout.
Most common solution
It's an issue that electrical specifiers and contractors face repeatedly when planning the electrical infrastructure for commercial buildings. A busbar powertrack system is most commonly the solution of choice, because it offers speed and ease of use with plug and play installation. It also provides plenty of flexibility for reconfiguration, additional tap-offs on the network, and parallel UPS distribution, contributing to futureproofing strategies to accommodate changes in occupier requirements. A powertrack system is usually suitable for most floor voids of 50mm or more, but specifiers must be mindful of the need for additional clearance so that the building owner, occupier or facilities management provider can access tap-offs for maintenance or reconfiguration.
While this does not present any challenges for many new build properties, for older buildings with more restricted floor voids or inconsistent void clearance, there is often insufficient space for a functional powertrack system. Often, specifiers assume that this leaves them with a choice of two onerous options: either to raise the floor and increase the void, or to opt for a hard wired electrical network. Both of these choices would add time to the programme and raising the floor could compromise headroom and heritage features too.
That's why there is an increasing appetite for a third option for refurbishment and heritage electrical distribution installations: power hub systems.
Adaptable, Compact and Compliant
Designed to offer plug and play ease and speed of installation comparable to powertrack systems, along with similar flexibility and futureproofing benefits, power hub systems are an ideal alternative where space is limited. They combine compact hub units with flexible metal conduits or 'umbilicals', which connect the hubs together to create the electrical distribution network. The flexible metal conduits provide cables with mechanical protection, allowing compliance with Wiring Regulation 543.7 "Earthing requirements for the installation of equipment having high protective conductor currents". They also protect cables from dirt ingress and rodents, ensuring a similar level of resilience to powertrack systems and ensuring that the electrical distribution system offers a low maintenance, fit and forget solution
Power hubs are specifically designed for buildings where a conventional powertrack system cannot be installed due to lack of void depth or obstacles in the void. Not only are the units themselves compact, making them suitable for voids where height is limited, but the tap-offs are located to the side rather than above, which means that they can no additional height clearance is needed for the removal, maintenance or addition of tap-offs.
In a straightforward installation, the linear nature of powertrack systems is very useful for creating neat parallel runs of power distribution, with a scalable layout that can be replicated on every floor. Where there are obstacles in the void, however, it can be difficult to route lengths of track around them because they can only be installed as straight lengths, which need to be laid flat. Where this is the case, the flexibility of a hub system's umbilicals enables obstacles to be dealt with easily.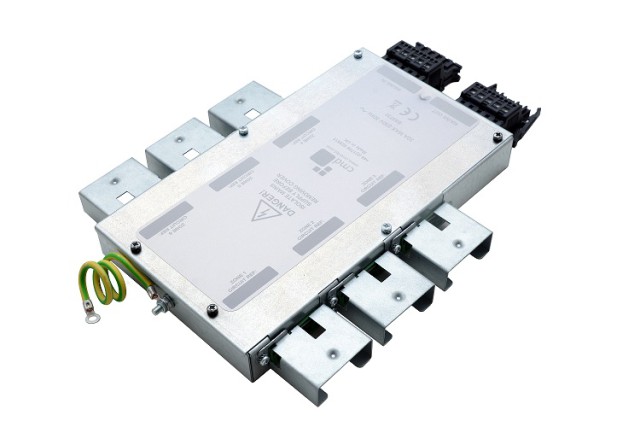 Power hubs are also ideal for use in buildings where the slab is uneven. In this scenario, if powertrack were to be used, it would have to be installed so that lengths of track were lying at different heights or angles, preventing consistent connections. This could cause issues on the distribution network, compromising entire circuits. Conversely, when using a power hub system, the hub unit can be placed on a flat area of the slab and the performance of the cables within the flexible umbilicals is unaffected when they are routed across uneven surfaces.
The flexibility of the metal conduit can also be useful for installations where the service void is very congested because it can be routed around other services without compromising the floor box layout or the integrity of the network.
For all these reasons, where there is any question mark over the suitability of powertrack, a hub system should be considered because they not only overcome specific building challenges but also offer ease of installation, ease of maintenance, future flexibility and compliance.
CMD Power Hubs are available in 4-way and 6-way units, which can be wired in a series circuit in the required configuration. Tap-offs are made to the side of the power hub unit, using BS EN 61535 compliant connectors in a metal housing to ensure a secure and safe tap-off connection. A choice of tap-off units allows electrical supply to be routed to the required locations, regardless of how densely populated the floorplate will be, while minimising the number of hub units required, thereby keeping costs and installation time down, reducing maintenance and optimising space in the void.
Additional hub units or tap-offs to existing units can be retrofitted to the installation at any time, providing the flexibility needed in contemporary commercial buildings for changing occupier requirements, change of occupier or change of use. No additional space is required for plugging in or unplugging tap-offs and multiple power hubs can be configured together on a single circuit.
Creative Thinking
Finding the right solution to match the needs of the building and the client, while working within a tight programme are challenges that contractors must constantly overcome. A power hub system provides an ideal solution, with rapid, cost-effective plug and play installation for a wide variety of projects. For example, for a recent installation at a film and TV production company, a compact power hub system was used to meet the needs of the shallow floor void and 900 units were installed to provide the flexible distribution network required in an environment where needs will continue to change. In another example of how power hubs can overcome architectural challenges, a power hub system has recently been installed in the ceiling void to service the void-free concrete floor of the level above. Once again, the compact units and potential for reconfiguration were key benefits of using a power hub system.
A power hub is not always the most appropriate specification, but, where powertrack is not suitable, a power hub is often the best alternative.
Paul Allen is Power Distribution Sales Manager for CMD Ltd
Related links:
Related articles: