The key safety issue for lift release
 Eur Ing Dave Cooper, CEO of LECS (UK),  an independent engineering consultancy for lifts and escalators, looks at one key aspect of lift safety - using a release key.
Getting stuck in a lift is something that many people dread. It's what happens next – i.e. who is tasked with releasing the trapped passenger - that has become the subject of an ongoing debate.
BS7255 is a standard entitled 'Safe Working on Lifts'. The prevailing standard is the 2012 version however it is currently being updated by the committee responsible for its publication. BS7255 is a very important standard for any lift owner or manager as it is divided into separate sections – somefor lift owners and otherss for those that actually work on the lift.
I am often surprised by people telling me they have never heard of the standard. In fact, there are a series of them that people should be aware of:
BS7255 Safe working on lifts
BS7801 Safe working on escalators & moving walks
BS9102 Safe working on lifting platforms

I can write all day long about the contents of these standards but I am going to concentrate on a subject matter that seems to be in the public gaze at the moment.  This is information that lift owners and managers need to hear or be reminded of.
The release key and access to it.
This is very much about safety. In fact, there has been a number of accidents recently where people have fallen down lift shafts as a result of using a release key.  It leads us neatly into a discussion about the  duty of care!
Over the years there have been many articles about the risks associated with release keys and, in particular, the ease with which they can be obtained from DIY stores albeit for different purposes.
The question about access to a release key came to the fore recently in a trial involving a care home in North Wales in 2018 where an untrained member of staff used a release key and subsequently fell down a lift shaft and sustained serious injuries. The victim had been alerted to a fault in the lift. She opened the lift door using an emergency key but fell down the shaft. This accident happened just three days after she had started her new job.
The care home company denied breaching standards but was found guilty of breaching four health and safety standards at a trial at Mold Crown Court.  It was fined £90,000 and ordered to pay costs of £85,000.
The enforcing authority said that the manager suffered life-changing injuries and was lucky to have survived. The judge said that the systems that had been in place at the care home were "inadequate". After the hearing, Flintshire Council's cabinet member for planning and public protection, Councillor Christopher Bithell, said: "This is a tragic case where an employee was very seriously injured and could have died as a result of their employer's negligence.
"This prosecution sends a clear message about how seriously Flintshire County Council takes these matters."
The question for the industry is how do we stop it happening again?
The reality is that if someone is intent on using a release key, we can't stop them. However, there are a number of steps that we should take when something obvious jumps out at us as being wrong including ensuring that authorised persons are adequately trained and also that access to release keys is, as far as possible, limited to those authorised persons.
One of the comparators used in this case was the fact that the trolley used for dispensing drugs to patients was kept locked to prevent unauthorised access. Similarly, BS7255 requires that a release key is kept in a safe place.
Who should be trained to use a release key?
The thought of getting stuck in a lift is one that most people dread. Hampshire Fire & Rescue Service acknowledged on its website that during one 12-month period it attended 550 incidents where people were stuck inside defective lifts. The fire service also acknowledged that a lift maintenance contractor may be better skilled than they to release passengers and that they may cause damage to the lift during the process.
On the other hand, the lift maintenance contractor may not be able to respond in a reasonable period of time dependent on where their operatives are and what they are doing. In a power cut scenario, they may well be running around releasing a number of passengers, with buildings such as hospitals and schools taking priority.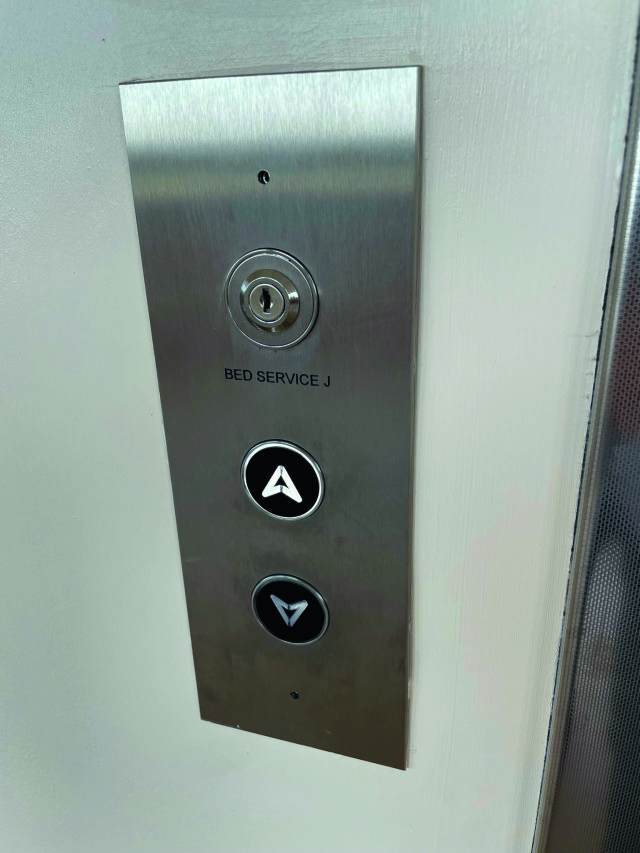 So the question is a simple one – should we train owners of buildings in the art of emergency release from stalled lifts?  There are two specific trains of thought in the industry – no (never) and yes!
As it happens I have my foot in the 'yes' camp but with the condition that (1) the person receiving the training receives regular refreshers and (2) that the trainer is satisfied that the person is competent to be trained. And Importantly, (3) the person receiving the training must have the aptitude for the task. I don't wish to demean people but if they don't have the aptitude they are better off leaving someone trapped in the lift car until competent help arrives!
So why not train someone at the building? If you decide to do so they should be trained properly and regularly assessed in accordance with current standards to ensure that they remain competent to undertake such a task. Unfortunately, history shows that if the process goes wrong people can be seriously injured or killed.
There are also statutory obligations on lift owners as follows:
Summary of the Health and Safety at Work etc. Act 1974
Persons concerned with lifts have duties under the Health and Safety at Work etc. Act 1974 (HSWA) [10], which includes the following:
A) Employers have a duty to ensure, so far as is reasonably practicable, the health and safety of their employees while at work. This includes the provision of plant and systems of work that is safe and without risk to health, means to safely use and handle articles and substances, necessary information, instruction, training and supervision, safe means of access and egress, and a safe working environment.
B) Employers, the self-employed and employees, have a duty to conduct their undertakings in such a way as to ensure, so far as is reasonably practicable, that all persons who may be affected by the work activity are not exposed to risks to their health and safety.
Summary of the Management of Health and Safety at Work Regulations 1999
The Management of Health and Safety at Work Regulations 1999 (MHSWR) [5] include a requirement (Regulation 3) that every employer and a self-employed person should make a suitable and sufficient assessment of the risks to the health and safety of themselves and others arising out of, or in connection with, the conduct of the undertaking. The significant findings of the assessment should be recorded. The purpose of the assessment is to identify and quantify the risk. Employers are expected to implement preventative and protective measures to eliminate risk. Effective control measures should be put in place to address residual risks and hazards. The regulations also include requirements on training, health and safety assistance, information for employees, and the requirements to put in place such arrangements as are appropriate for the effective planning, organization, control, monitoring, and review of the preventative and protective measures necessary.
BS7255 is very specific and says that training should be provided to all persons who are authorized to carry out the safe release of trapped passengers. Such persons should be made aware that this training is limited to safe release activities only and that this does not authorize them to carry out any additional activities.
Training should cover the release procedure and also possible complications that might arise during a release, e.g. failure of the procedure to cause movement of the lift car.
There is also an accompanying note that says the full range of competencies contained within NVQ EOR/202 might not be required for persons carrying out the safe release of trapped passengers.
The competency of all trained persons should be assessed and documented annually. Documentation should list the competencies achieved relating to the type of equipment upon which the training was carried out. Information and instructions should be given to all occupants.
Related links:
Related articles: