Giacomini links up with Northern Ireland underfloor heating specialist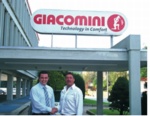 Giacomini UK has formed a partnership with Scoffield Specialist Services for the design, supply and installation of its underfloor heating systems in Northern Ireland. Scoffield is based in Belfast and has 38 years' experience across a diverse range of projects.
Chris Pritchard, managing director of Giacomini UK (pictured, left, with Ryan Daly, operations manager with Scoffield), says, 'We are very excited about the new partnership. Scoffield's reputation in Northern Ireland speaks for itself, not just for product innovation but also for offering a complete service — from design and installation to commissioning. We are looking forward to a long and fruitful association.
Related links:
Related articles: