Bitzer optimises scroll compressors for part-load performance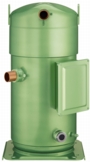 To achieve greater efficiency at part load, Bitzer's Orbit 8 series of scroll compressors, specifically designed for R410A, includes six displacement steps with capacities from 39 to 103 kW at 50 Hz. There are two versions of Orbit 8 compressors — one optimised for air-cooled applications and heat pumps and the other for water-cooled chiller operation.
The Orbit Boreal for water-cooled systems achieves an ESEER up to 15% higher than with a conventional scroll design. This is achieved by an optimal compression ratio for lower condensing temper­atures such as those found in water-cooled applications. Adapted motors result in lower applied cost and better efficiency at part load. Orbit 8 Boreal offers five capacity steps from 70 to 140 kW.
Another benefit is an operational sound level up to 3 dB(A) lower than competitive products.
Related links:
Related articles: