Demand and supply

Hot-water supply is one of the most important aspects of building services for hotels. Paul Marsden explains the importance of understanding hot-water demands in hotels.
"It is possible to identify patterns of demand for hot water in hotels," says Paul Marsden, national sales manager for hot water specialists Lochinvar. "But it will depend on what type of hotel it is and what type of customers the hotel attracts."
Budget hotels, perhaps aiming in the main at the commercial guest, would experience a very different demand than a hotel where guests are staying on holiday. "They all see peaks and troughs in demand, although it is fair to say that whatever the hotel type the highest peaks in demand occur during morning and evening," says Marsden.
The type of hotel will also influence the areas where hot water is required. For example, budget hotels tend to use electric heating in rooms, and they are also less likely to have facilities such as a leisure facility or on-site restaurant. The emphasis is therefore on supplying hot water to ensure guests have hot water in bathrooms. At the higher end of the market, hotels are more likely to have an on-site restaurant and also a leisure facility, possibly with a swimming pool. A number also have in-house laundries.
"In the case of an up-market hotel with these facilities, you may see fewer peaks in the hot-water requirements, but a higher steady demand across the day," explains Marsden. Plantroom layout is also likely to be different. In the budget market there is usually a single plantroom serving the whole building. In a hotel with a leisure facility, restaurant and laundry there may be separate plant rooms serving these areas.
Lochinvar specialises in supplying high-efficiency boilers as well as water heaters and boilers, but Marsden points out that clients can often show a preference for familiar plant room set-ups. Whilst there is a strong case for installing separate hot water and space-heating plant, in some circumstances, perhaps for technical reasons such as the location of the plant room, a traditional boiler and calorifier could be an option.
He recommends the separation of the hot water and heating supply in hotels. "We find that this is a much more energy-efficient approach," Marsden comments. "Hot water is needed every day, whatever the season, but the demand for space heating is seasonal. Your heating system may very well be off in Summer, but operating twenty-four hours in Winter." With two totally different requirements it seems senseless to provide both from the same plant.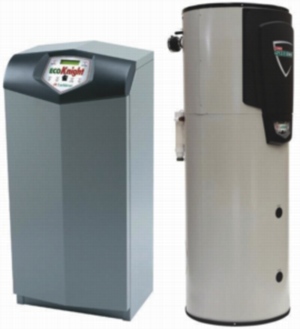 Marsden explains that by treating the hot water and space heating separately, it is easier to size the equipment more accurately, and to specify more effectively. He also points out that equipment is more likely to run efficiently and effectively for its lifetime.
Lochinvar now offers solar-thermal hot-water technology, and Marsden believes that this offers many benefits to the hotel sector. "Because of hot-water usage patterns, solar thermal is a good technology choice for this sector. We have seen a growing interest in solar thermal, including amongst the budget operators, who in some instances have taken up solar thermal as an option."
Marsden highlights the fact that solar thermal must always be supported by efficient fossil-fueled products, such as gas-fired water heaters, to ensure that all the hot-water demands can be met. When using conventional technologies with renewables, effective controls and integration are also vital. "You must use controls to ensure that the renewables are used when it is most efficient to do so, and effective integration will ensure the whole system operates efficiently," he says.
Since gas-fired water heaters will continue to be the backbone of the hot-water requirements for many clients, Lochinvar has introduced new products to address these needs even more efficiently. "We have developed a condensing non-storage water heater called EcoKnight which can be coupled to separate buffer storage vessels. It is good for the hotel market because it has a small footprint while offering high output. A modulation feature is also included as standard ," says Marsden. There is also EcoShield, a condensing storage water heater that is supplied with the water heater and storage vessel pre-piped and plumbed as a packaged unit , with a small footprint of less than 1m2 per unit.
Related links:
Related articles: