Vandal proof taps can achieve 84% water savings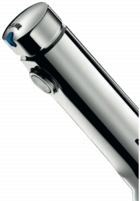 Water savings of up to 84% compared with a traditional basin tap can be achieved by Douglas-Delabie's Temposoft taps and mixer for washbasins. The flow is regulated at 3 l/min and is timed. Only a soft touch of 2 kg is required to operate these taps and mixers compared with 6 kg for a standard model.
Designed for intensive use in public places, these taps are vandal proof and made of materials that are resistant to scale and corrosion and have a scale-proof straightener.
Because these taps turn themselves off, there is no manual contact after hand washing, reducing the risk of cross contamination.
The cartridge mechanism, non-return valves and filters are easy to access without removing the mixer.
Related links:
Related articles: