Residential air conditioning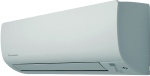 Daikin Europe has launched a range of wall-mounted residential air-conditioning units that meet the design and performance requirements of modern bedrooms. Operational noise levels are as low as 19 dB(A). Inverter control adjusts the power used to match the actual requirement, resulting in an A energy rating for the entire range. Further energy savings can be achieved using the weekly timer and presence detection to automatically activate an economy mode when no-one is in the room.
At the low end of the range, a 15 class model accommodates the current trend towards small bedrooms and better insulation by operating at lower airflow rates and noise levels previously only achieved with size 20 units. This development provides more flexibility to distribute the capacity of multi-indoor units.
Related links:
Related articles: