Thermal balancing — keeping hot water hot

The most important building service in a commercial building is arguably the supply of wholesome (potable) water for drinking, hygiene and food preparation.
Systems for distributing hot water are particularly suspect to the growth of pathogens (harmful micro-organisms). It is critical that they are designed to minimise risk and constantly monitored to ensure hot-water quality is maintained.
Hot water in pipes and storage tanks must be regularly refreshed to prevent stagnation, making it difficult for pathogens to proliferate.
Maintaining a constant hot-water temperature is vital.
A temperature of at least 60°C must be maintained in the hot-water tank, and circulation water must be returned to the tank at a minimum temperature of 50°C (BS8558:2011 — Guide to the design, installation, testing and maintenance of services supplying water for domestic use within buildings and their cartilages — complementary guidance to BSEN806).
The legislation and guidance documents for healthcare premises are more stringent. Hot water must be stored at 60°C and distributed such that it reaches a temperature of 55°C within one minute at the outlets (L8 HSG274 and the Health Technical Memorandum).
Legionella is a well-known pathogen that has less chance to grow if the hot-water temperature is constantly controlled and monitored.
Reliable protection can be achieved if hot-water temperatures in distribution pipework are maintained above 55°C (with suitable mixing valves at points of supply to avoid scalding).
Thermal balancing of domestic hot water services (DHWS) distribution is achieved by installing valves that respond to temperature changes and therefore balance on temperature rather than flow to achieve hygienic delivery of domestic hot water at the correct temperature.
The benefits of thermal balancing include the following.
• Reliable water hygiene by delivering constant high water temperature over 55°C to help protect against pathogen growth.
• Even distribution of high temperatures, ensuring hot water is immediately available at point of use.
• Reduced water consumption by the immediate availability of hot water, minimising drain losses.
• Energy cost reduction by optimising flow distribution of regulated temperature-controlled water.
Honeywell manufactures a range of water products to control wholesome water and help reduce the risk of pathogens such as legionella.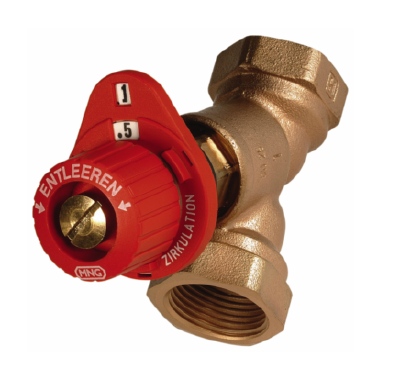 Honeywell's Alwa Kombi 4 valve throttling and balancing valves are installed to thermally balance the secondary return of constant hot-water systems. A thermostatic control element is available to maintain constant circulation temperature.
Alwa Kombi 4 thermal balancing valves automatically support thermal disinfection (or pasteurisation cycle) as required to aid Legionella prevention
Normal temperature control is 50 to 55°C. When water at 70°C is flushed through the system for thermal disinfection, the valve automatically opens further to ensure hot water is distributed in all risers and pipelines whilst maintaining a thermal balance.
The Honeywell Alwa-Comfort valve is installed in recirculating DHW systems to provide accurate temperature control.
Available in one size (DN15) the Alwa Comfort is used as a throttle valve for the thermal balancing of domestic hot water systems in floor lines and low-volume circuits.
These installations are usually specified in more stringent hygienic requirements or higher levels of comfort where hot water must be available immediately at point of use.
The Alwa-Comfort valve is preset to a fixed temperature of 57 or 63°C. The throttle valve opens and closes independently, regulating the flow as a function of water temperature in the floor circulation line.
The Alwa-Comfort supports thermal disinfection, starting at a water temperature 70°C (DVGW worksheet W554).
Andrew Stokes-Roberts, Honeywell senior account manager, explains, 'Thermal balancing is extremely important in the design, maintenance and monitoring of wholesome hot water distribution systems.
'The growth of pathogens such as legionella is a significant risk in commercial buildings.
'Careful consideration of the pipework, flushing intervention and hygienic pasteurisation regimes are extremely important factors in helping to prevent the growth of micro-organisms that threaten the health and wellbeing of the occupants of a building.
'Thermal balancing provides an effective and efficient system to help prevent pathogen growth whilst delivering excellent levels of serviceably and availability of wholesome water at the point of use or extraction.
'Although thermal balancing by maintaining high hot-water temperatures increases energy usage, it is important remember that protection of health and hygiene has a higher priority than cost saving.'
If you would like to know more about Honeywell water products and thermal balancing please visit the link below.
Related links:
Related articles: