CentraLine extends its reach
CentraLine completes the NX product family by introducing the powerful HAWK 8000 controller for efficient and safe integration of building applications.
Following the launch of the CentraLine Niagara eXtended platform, MERLIN Room controllers and the EAGLEHAWK plant controller, CentraLine has now extended its connected building portfolio with HAWK 8000.
HAWK 8000 is an extremely powerful controller and integration device which utilises the CentraLine NX platform to connect multiple and diverse HVAC and non-HVAC devices and systems on one unified platform.
It offers simplified programming and installation, ease of operation plus more processor power and integrated data points.
The controller delivers integrated building management with monitoring, data acquisition, alerts, scheduling and comprehensive network connectivity. Thanks to the built-in web server, Wi-Fi components and HTML 5 standard, all of the information, including easy-to-understand visuals, can be handled via Ethernet connection, Wi-Fi or remote access and standard browsers.
The connection of up to four pluggable communication modules adds up to five more communication buses to the already existing Ethernet and two communication interfaces.
Connecting all systems across a facility will increase the overall efficiency of a building, improve the ease of its commissioning and operation and protect past investments.
Benefits include the following.
• Significantly increased energy efficiency with the proven CentraLine Application Library that provides tested and documented components for heating, ventilation, air conditioning, cooling and room integration.
• Reduced cost and easier management over the integration of lighting and sun-blinds/
shutters by direct connection to the wireless and battery-free EnOcean portfolio.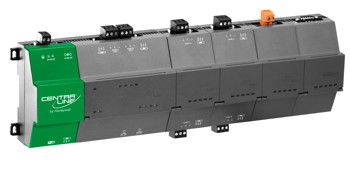 • Maximum transparency and management of energy usage, as well as reduction of operating expenses through CentraLine's comprehensive energy management suite ENERGY VISION.
• Informed and therefore
safer building operation by integrating fire, safety,
access control and CCTV applications.
• Protection of past investments by seamlessly integrating existing Honeywell C-Bus installations.
• As an embedded IoT controller and server platform connecting multiple systems, it also offers you anytime, anywhere access to your facility management systems thanks to its Internet connectivity and web serving capability.
• HAWK 8000 empowers effective decision-making based on meaningful, real-time data. Additional information can be tagged
to any integrated object offering a new level of simplification in regards to structuring, searching and preparing data for further analysis.
Related links:
Related articles: