An insight into off-site options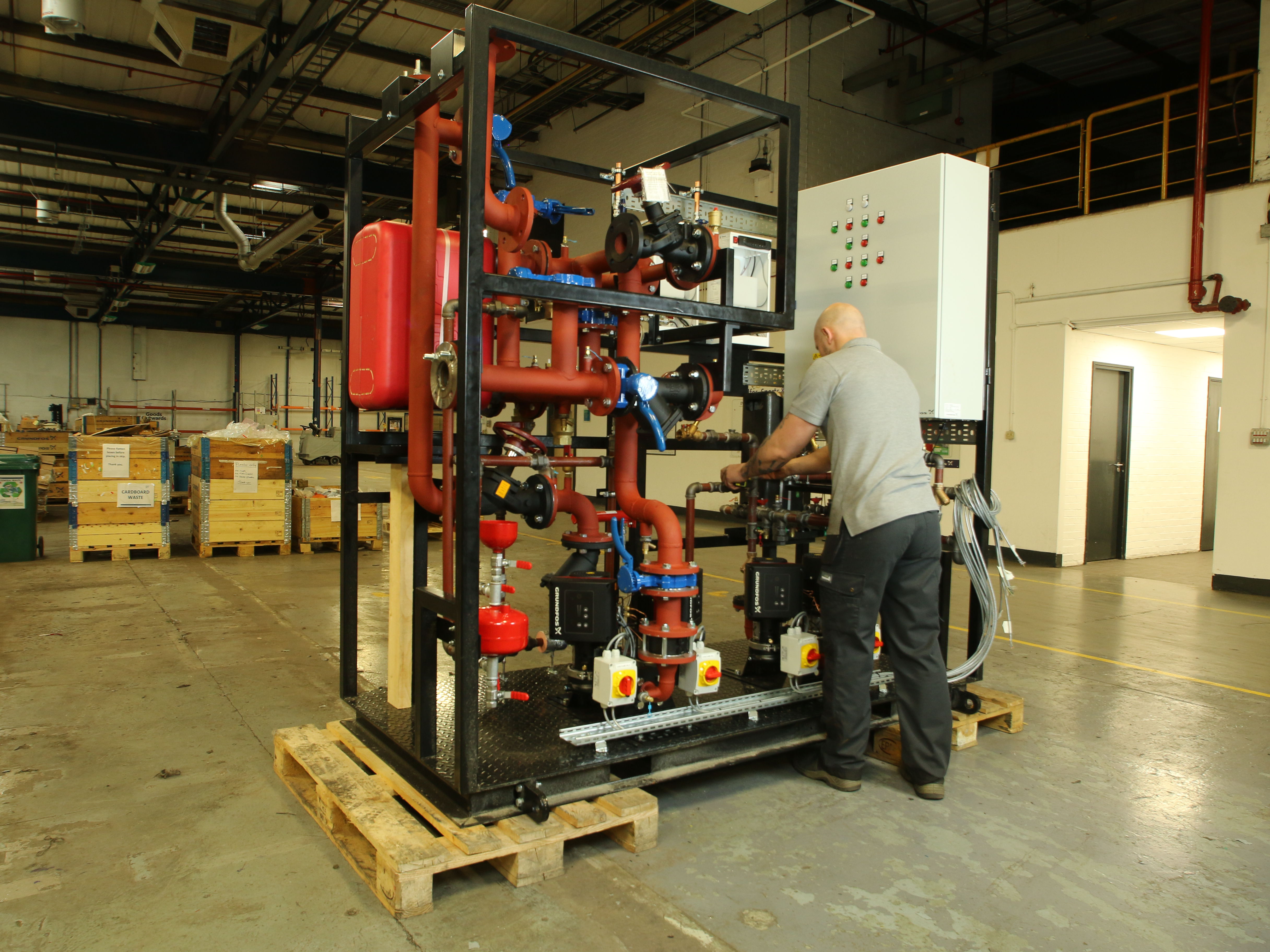 Off-site build (often abbreviated to OSB), has started to become more of an identifiable trend in a wide range of applications in recent years. Glynn Williams why this approach to building services is increasingly popular with engineers and installers.
This packaged approach is not new and has been around for a long time and it can be known by a variety of different terms, these include off-site construction, off-site manufacture, build off-site as well as engineered to order - although this particular phrase is more frequently used in reference to one-off solutions.
Regardless of what it is called, the reason this type of solution is popular is that it offers a structure that is designed, engineered and manufactured in a safe, controlled location that is not the site that in which it will be used. The manufacturing of these solutions occurs in a specialist plant that offers specific expertise to facilitate this type of process, with units constructed in clean, safe factory conditions and then transported to the site.
The complete package
Regardless of the end functionality, producing a successful off-site build outcome for a pump product demands the manufacturing capability to be able to deliver a 'plug 'n pump' solution. This means that all the elements from planning and design, through to fabrication, the actual assembly of components and any required testing need to be coordinated and that these sets arrive on site, complete with all the necessary pumps, piping, valves, instrumentation and controls.
At present, the output requirements for OSB vary, dependent on what application the final solution is designed to meet. If you take for example the commercial building arena, these units are often required to support HVAC – including district energy, fire and water boosting applications and to meet the demand for water in commercial buildings. This means being able to deliver systems that are typically designed and manufactured on a common base frame for supply to site.
Larger booster assemblies or "part assembled" systems are often preferred where two or more base plate arrangements are supplied. This means that pumps and pipe fittings are on one base frame and the control panel on another base frame. This enables both the installers and the carriers a degree of flexibility at both the system supply and the installation stages. These part-packages are then connected together on site.
For the very largest applications, the sheer size of pumps and associated pipe fittings may make it untenable to package the equipment in a factory and then transport it safely to site. Therefore, parts are supplied separately and assembled on site by a contractor.
Concurrent engineering
Concurrent engineering is also known as simultaneous engineering or integrated product development (IPD). This is a method of designing and developing a process in which the different teams and stages run simultaneously, rather than consecutively. Thus, decreasing the overall design, development, production and delivery time as well as the associated costs.
This approach, which has been used by Grundfos for some time, offers some specific benefits to deliver against the demand for today's and tomorrow's commercial building projects that can be achieved through OSB. These additional benefits can offer real very practical advantages in challenging projects.
For example, a pumping solution was needed to support a large residential development in London. The building needed to incorporate a range of special OSB demands, as well as a tight timescale. The project was complex and involved a number of different developments that needed to be individually catered for. One of the particular challenges was to develop bespoke solutions around a factory acceptance tested (FAT) master set.
Besides needing to meet specific project objectives, this type of solution also delivered some particular benefits. For example, in different high-rise application, the systems need to be separated hydraulically, which means the client or landlord will need an independently separated tenant and landlord services solution. Through metering and the hydraulic separation of systems, this solution meant it was easy to bill the tenant accurately.
 This level of adaptability is particularly helpful on speculative office build, something which is now quite common in major cities, where there is potential to have multiple tenants in the same building.
Made in the UK
Another potentially essential element to a successful off-site outcome is to select a partner - especially in the current climate of trading uncertainty - who has the local capacity, knowledge, expertise as well as all the necessary accreditations to successfully complete and deliver all the various stages within the process.
The Grundfos manufacturing plant in Sunderland, for example, has a 10,000 m2. capacity, this is a recognised centre of manufacturing excellence. It offers design, build, assemble, test and distribution services, ensuring a streamlined and very cost-effective option that also includes testing facilities for complete packaged plant.
All off-site build units are designed, constructed, pre-wired and tested to individual or collective requirements. This approach significantly lowers project costs and reduces health and safety risks. Offsite built products also have a reduced footprint with faster installation, set-up and commissioning timescales. Importantly this approach also delivers an improved environmental impact, a much-reduced CO2 footprint as well as a reduction in waste.
Having passed all quality checks and achieved the duty parameters that prevent incorrect equipment from reaching the site, units will arrive at the customer's facility ready to be connected externally, mechanically and electrically. As the products are ready to start immediately, customers will benefit from reduced labour and time on site costs, another factor that is coming under scrutiny.
With so many potential applications that can be supported by this type of solution as well as the many benefits that it offers, it is of little surprise that the rise in off-site build popularity is expected to continue unabated.
It is very clear that there is a real future for these systems as well as for those companies that can offer both the flexibility as well as the consistency to deliver a complete and increasingly complex solutions to a myriad of applications both within the commercial building services arena as well as outside it.
Glynn Williams is director of sales for Grundfos Commercial Building Services
Related links:
Related articles: