FUTUREPROOFING LONG-TERM PROJECTS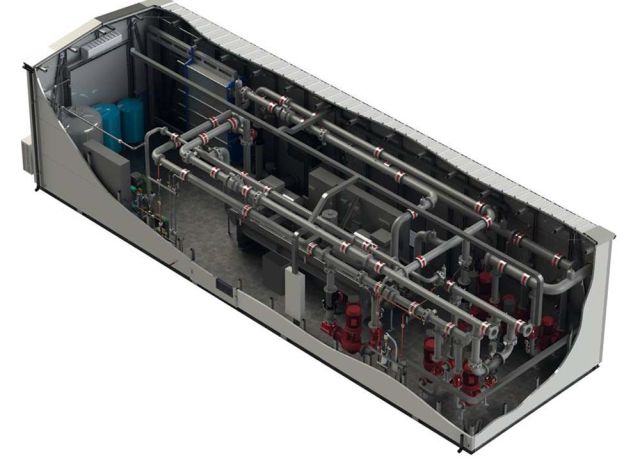 When a project has a particularly long timescale it is essential to rethink the HVAC strategy. District energy schemes, for example, are typically rolled-out gradually, linking additional buildings to the network over an extended period (years rather than months.
These types of project can encounter a number of problems as activities on site expand. Plans change over time and it can be impossible to anticipate exact requirements so far ahead of project completion. From a technical viewpoint, there is an enormous difference between the part load condition for phase one and the full load condition at full build out of a major project. This presents a significant challenge for HVAC designers, as they need to create heating/cooling schemes that are reliable and energy-efficient over an extremely broad range of operational conditions.
A key decision when designing energy centres for these major long-term projects is whether to start small, or install for full load conditions from the outset:
a) Installing services for day one load only: This approach helps to reduce the initial CAPEX but risks premature re-working of the energy centre if the network expands quicker than anticipated.
b) Installing all the equipment at day one to meet a future full load condition: This can avoid expensive re-working of the plant room as the network expands but will result in high upfront CAPEX. Not all projects progress as intended and due to market conditions, buildings can be delayed or even be shelved. This can potentially result in the energy centre being oversized for a significant period, leading to in-efficient plant operation, shorter equipment life and a poor return on investment.
At Armstrong we have introduced a more effective alternative approach. We offer Scalable Energy Centres which can scale-up in line with the load profile of the site, avoiding a number of problems associated with multi-phase projects. The specifier installs only what is needed for the foreseeable requirement of the project at any one time. Once plans and future demand become clearer, additional modular heating or cooling capacity is simply bolted on.
Scalable Energy Centres have a number of benefits. Closer matching of heating/cooling capability to actual demand avoids the significant technical problems of operating over-sized equipment in the early stages of a project. In addition, preventing over-sizing ensures that the equipment operates more energy efficiently, for improved utilities costs and better environmental performance. In addition offsite manufacture of the energy centre means less traffic and fewer contractors on site during the build, assembly of the plant room is not delayed by bad weather, and systems are constructed, integrated and tested prior to delivery, speeding up installation and commissioning.
Another solution offered by Armstrong is the supply of smaller temporary energy centres, which can be employed whilst projects expand, and then redeployed to other projects, making way for full-scale plant rooms at a later date.
If you think these solutions could benefit your projects, give us a call. 08444 145 145
John Pittendrigh, Armstrong Fluid Technology
Related links:
Related articles: