A fresh look at hotel heating and cooling

Chilled beams are becoming more flexible for the hotel sector. Mike Beeton and Mika Ruponen explain how the technology is being applied.
As well as requiring excellent performance from building services, hotel designers also expect them to look good. Mike Beeton, business development manager for Halton says that architects have not always been keen on using chilled beams in hotels: "Chilled beams, especially exposed models, have been viewed by the architect as too industrial for this market, but as a manufacturer we have responded to this challenge by liaising with designers and can now offer them a much more suitable look."
Fan-coil units are still a popular choice for air conditioning in hotels. However, they, too, create design issues. Dr Mika Ruponen, Halton's specialist in indoor environment technology, says: "In guest rooms there are usually low ceilings. The fan coil is often situated in a bulkhead just inside the door. From an architect's point of view, this creates a dark and sometimes claustrophobic entrance to the room, which is not very attractive."
Architects and interior designers are now turning to chilled beams because they offer an alternative way to achieve good indoor comfort for guests as well as a whole new look.
"We have designed a beam that will fit over the bed, close to the ceiling and with no requirement for the bulkhead. This not only creates the full-height ceiling effect that designers prefer, it is also the best position for delivering air into the room," says Beeton. The beam can be fully exposed or hidden in the wall or ceiling.
But the developments are not simply cosmetic. Dr Ruponen has studied the requirements and preferences of hotel guests for heating and cooling. "Chilled beams are a very quiet technology, which has obvious advantages for the hotel market," he explains. "But guests also like a technology that has an immediate response. When they push the button for cooling, they want to know the system is responding."
As a result of this research, Halton has introduced a 'boost' function for its chilled beams, which delivers an additional flow of warmed or cooled air into the room in response to guest requirements. "In this way we are giving an immediate reaction, and also the guests can hear the air arriving in the room so that they know the system is working."
Guest psychology aside, beams are also increasing in popularity because the pressure is on hotels to reduce their energy use. Chilled beams offer an energy efficient approach to cooling and heating, and one, which also has the advantage of being low maintenance. This is very important in the hotel sector, where maintenance can mean that a room cannot be let.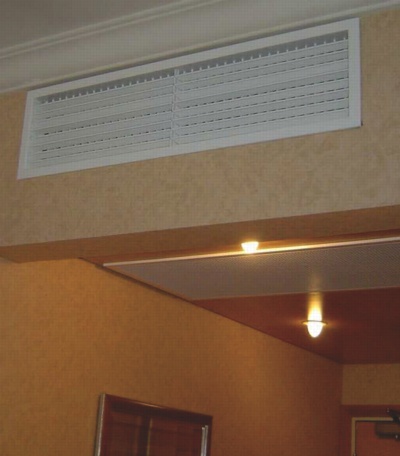 Retrofitting chilled beams into hotels has been a challenge in the past. However, Halton's R&D facility has now developed a solution for this: a chilled beam, which can replace a fan-coil unit and fit into the existing bulkhead.
"Of course, you don't solve the issue of the bulkhead, but there is no way of removing this without remodeling every room," says Beeton. "But replacing the fan coil means that you are moving to a system with lower maintenance and better air quality."
Halton has also been working on offering flexible solutions to solve other issues in the hotel sector. Kitchen ventilation has been a Halton specialisation for many years, and now they have responded to the need for greater energy efficiency in all areas of the operation.
"Our latest kitchen ventilation systems can now modulate extract rates depending on the amount and type of contaminants," explains Ruponen. "This brings a flexibility of performance that hasn't been available before and offers major energy savings because the extractor is not working a full capacity all the time."
Hotel reception areas can also benefit from displacement ventilation. "Good design helps here," says Beeton. "We can blend in the displacement units to suit the overall design, even fitting them under the reception desk or bar."
Beeton says that the use of chilled beams in hotels is now much more achievable. "End users can reap the benefits of improved air quality and guest comfort, along with lower running costs and a reduced carbon footprint."
Related links:
Related articles: