Electric efficiency
Phil Chilton and Chris Davis explain how they are helping clients cut waste and use more renewable options to create efficient and comfortable environments.
Electric heating is a popular option for the hotel sector. Phil Chilton, product manager for Dimplex commercial installed products says: "When you look at this sector, it is effectively a larger domestic environment: kitchen, bedroom, bathroom. The benefits of electric heating are the same as in the domestic sector, yet many times over."
Ease and speed of installation are vital in a market where time is of the essence – the sooner a room is occupied, the sooner a client is making money. "Electric heating is much simpler than gas, and requires very little servicing," explains Chilton.
Some regard electric heating as more expensive than gas, and also a less 'clean' energy. Chilton points out that the energy market is changing: "Gas prices are rising, and electricity generation is up, driven by Government legislation. I think there will be increasing pressure in this area."
Electric heaters themselves are also highly energy efficient, as Chilton points out. "An electric heater turns all the energy into usable heat. It is 100% efficient, which is better than a condensing boiler."
Controls technology is improving overall efficiency. "Electric wall heaters now achieve 0.3% accuracy on temperature control," says Chilton. "The heat switches off as soon as temperature is reached. We can also apply other types of control such as zone controllers and PIR detectors."
The hotel management can control the parameters for heating in each room, ensuring that the space is not over-heated. Also products with entirely centralised controls can be installed where the client requires it.
In other areas of the hotel, electric heating products are also helping to save energy. "Electric radiant heating is ideal for outdoor use in the hotel sector. Radiant heating only heats people and objects — not the air around them. The desired comfort level is reached quickly, and they can be combined with presence detectors."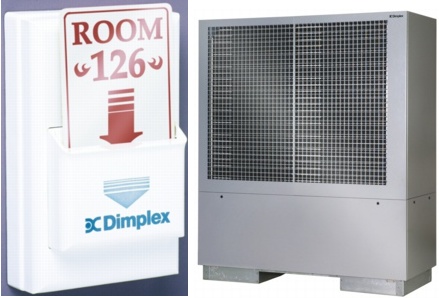 The hotel industry, like many other sectors, is now taking a closer look at low-carbon technologies to meet its internal environmental requirements. Chris Davis, business development director for Dimplex renewables, comments: Take-up of renewables within the leisure sector is at the early stages, but people are interested in the technology and they are trying it out."
In some cases, the requirement for renewables is driven by Local Authority rules on use of on-site renewables for new projects. Davis says: "We worked a project for Travelodge, where they needed to use some renewable technologies to meet local authority stipulations. Dimplex installed air-source heat pumps for centralised hot water. These were used to pre-heat sanitary hot water. This reduced energy use and cut costs."
Air-source heat pumps are also proving popular for areas with swimming pools. "ASHPs look favourable when they are replacing older gas boilers," says Davis. Dimplex has a range of high-efficiency air-source heat pumps developed in Germany.
"These are larger units of between 40 and 60 kW with a COP of 3.9, designed to meet German performance requirements," adds Davis. It is also possible to use reversible heat pumps to divert 'waste heat' from cooling the kitchen. This heat can be used for swimming pools. "This is easier for new-build projects, as there are engineering implications for carrying heat to where it's needed," explains Davis.
As the hotel sector is faced with the CRC Energy Reduction Scheme, more managers are looking to find ways to reduce carbon emissions. Phil Chilton says that the onus is on suppliers and contractors to offer good advice to their clients: "They need advice on how to get the best performance out of the products they are using. We advise clients to make the best of controls. While retrofitting is a good option, we think that it is also a good idea to help clients use what they have correctly to get the most energy efficiency performance."
Davis agrees: "You have to take a staged approach to achieving energy efficiency, especially in existing buildings. Use what you have in terms of the direct electric heating because that is so controllable now, then consider solar thermal for hot water and technologies such as heat pumps."
Related links:
Related articles: